Jun 26 2008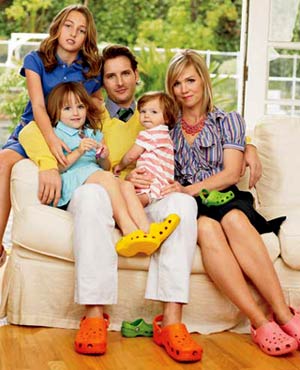 Am I jealous that I didn't invent Crocs? Yes. Is that why I hate them so much? No.
If I see you wearing your Crocs it is best to guard your ass from my shoe wearing foot that is about to kick it. Why why why would anyone, including children, willingly choose to wear these in public? Are we really so bored that in order to feel alive again we need to experience the stinging humiliation of dressing like clowns in public? I hate us. Actually I hate you.
Yes, Crocs are insanely ugly and ridiculous and should be shunned for those reasons alone but the thing I really hate about them, or any fad, is that it once again proves that people are predictable followers. Just think about those idiots who will literally get in fist fights over Tickle Me Elmo or Furbies or fill in the blank. It's this desire to blend in with the crowd and disappear that makes me want to force feed you your Crocs.
Guess what, you look like an ass in your Crocs. You don't look cute and you don't look "funky" and don't even try to tell me how comfortable they are. Walking around with bags of dog shit on your feet might be the most comfortable thing ever but I still wouldn't do it. I'm sorry if it sounds like I think I am superior to "Crocs people" but it's only because I am.
Hey Crocs. You just made my list!
10 comments to "Your stupid, ugly Crocs!"