Jan 06 2009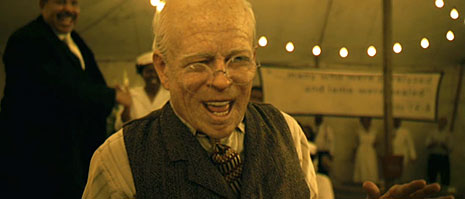 Thank God I was lucky enough to see this piece of crap for free thanks to an advance DVD. I think I may have literally gone insane had I seen it in a theater.
For the record, I wanted to see this movie and I wanted to like it. I really like most of David Fincher's movies and I even like Brad Pitt. Side note: if you look up "The Curious Case of Benjamin Button" on IMDB, Brad Pitt is not listed in the cast. Kind of a dis considering he is in every scene.
While watching this movie I had an uneasy feeling, the exact feeling I had while watching "Forrest Gump." It's a feeling I can only describe as being inappropriately touched by a tiny crowd of "Love Is" figurines while being force fed a bag of sugar. Benjamin Buttons might be the biggest "aw shucks" movie of all time, even more so than Gump. Oh by the way, guess why it reminded me of Forrest Gump? Both movies share the screenwriting magic of Eric Roth! Turd.
For a movie that tells the entire life story of a man, a man who ages in reverse no less, it's incredibly BORING! Not to mention, this film clocks in at around 7 hours and 35 minutes. I took a 45 minute nap and had no problem picking up the action when I awoke because all I missed was a 45 minute scene of Brad Pitt drinking tea.
Go see The Wrestler instead. Great movie.
8 comments to "The Curious Case of Benjamin Boring!"