Jan 08 2009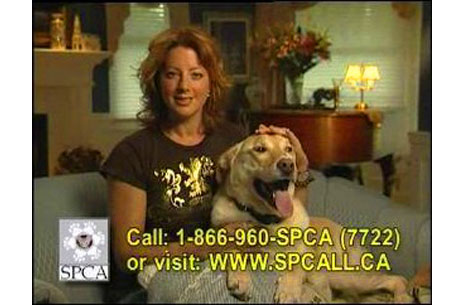 Let me be VERY clear I LOVE animals and am endlessly thankful for people who devote their lives to helping them. I'm one of those ridiculous people who sees a homeless guy with a dog and thinks "I hope that dog is getting enough to eat." I am glad there are people like Sarah McLachlan who use their celebrity to do something noble. Finally, the thought of a person being cruel to an animal literally turns my stomach.
Having said all of that, I can't reach the remote fast enough when this commercial comes on the TV. It's not the commercial's fault, I just can't stand to see slow motion shots of sad/abused/forgotten animals. To date, I have only seen the first 3 seconds of this ad and it's enough to ruin my day. I always change the channel immediately. The problem is that the commercial is so long I always turn back too soon and find a pair of sad doggie eyes staring at me from behind cage bars.
Oh, and now there's a new sad animal commercial with polar bears clinging to life on a tiny chunk of ice. Jesus Christ, I just want to watch People's Court without crying!
If the economy didn't suck and I had some extra cash I would be more than happy to donate to the ASPCA. So I guess that means you will have to donate in my honor. If you don't, I will email sad animal photos to you every day. Don't be like me, donate to The American Society for the Prevention of Cruelty to Animals.
40 comments to "That ASPCA commercial with Sarah McLachlan!"
#

andanotherthing...

on 08 Jan 2009 at 5:15 am

Okay, so, you've outlined why you dislike this ad… but here's another reason: given that the ad serves a good purpose, wouldn't you think it would be preferable if they had used a celebrity whose fanbase wasn't primarily encompassed by the majority of the animal rights/welfare movement? I mean, the people who might be affected by Sarah McLachlan schilling herself are already people who are in favour of helping animals. Or lesbians. Wouldn't it have been better if they used a celebrity who does not represent this kind of a message to the best knowledge of the general public? Like Clint Eastwood or Justin Timberlake or maybe even Lil' Wayne… somebody that might draw in supporters from an entirely new source.

Stop pandering to your fanbase, ASPCA, and think outside the box.

I'm with you… this commercial brings instant tears to my eyes and hubby gets upset at me for watching it. So, he scrambles for the remote while I sit there sobbing. Good times.

#

Pete

on 08 Jan 2009 at 7:35 am

I'd like to help Sarah, if you know what I mean (nudge, nudge, wink wink).

#

Stephanie

on 08 Jan 2009 at 7:52 am

OMG that commercial makes me cry every time it comes on. My husband has to dive for the remote to change the channel before I lose it, hah. I'm sure it's on his list, too!

Don't just donate! All shelters are in need of volunteers. Even if you have an hour to spare, most shelters would love it if you stopped in and take one of their pooches for a stroll and out of their crate. You can also foster a dog or cat, so they're not stuck in crates at the shelter. The shelter pays for the vet bills and in some cases, all the food.

We adopted our dog from http://www.chicagocaninerescue.com and they're so overcrowded, they'd be thrilled if you could stop by and give a few dogs some attention.

Okay, I'm getting a bit preachy. Sorry.

#

Xina

on 08 Jan 2009 at 10:01 am

What always gets me are the two or three different animals that they show with only 1 eye. Now that's just mean!

#

SanFran

on 08 Jan 2009 at 10:08 am

I've never seen the commercial, I love animals, think Sarah makes good tunes and we've been visiting the San Francisco shelter (which is flat out posh, it's amazing) as we're hoping to get a pup in the next few months…

What turns my stomach and makes me super bummed out are these "pet stores" – uggh – on the rare occasion I'm actually at a shopping mall, I go to great lengths to avoid any sensory contact with the obligatory "Pet Land" type franchise. These places should be regulated and fined to the point of going out of business – all they do is flood the world with unwell, inbred critters to a population that is only appeasing their whiney ass kid because they just saw 101 Dalmatians and want a puppy or whatever… Then, these animals wind up in shelters because the idiots who frivolously took said critter into their homes aren't actually worthy…. So sad.

Now, to help douche your mind of the sad puppy eyes and cages, I would like to share with you some photos on my flickr page (of course, this will reveal my true identity, but I'm comfortable with that)…

here's my mom's new puppy, who we met over Thanksgiving on Cape Cod: http://flickr.com/photos/gregfulcher/3059609331/

this is my beloved (and late) Dalmatian, who was the most amazing and active companion for 11 short years:
http://flickr.com/photos/gregfulcher/2553747883/
and http://flickr.com/photos/gregfulcher/2613878969/

Feel free to poke around – there are thousands of photos, a number of doggies, too… Enjoy.

SanFran, Holy fucking God damn those dogs are CUTE!

You make a good point about pet stores. You have to be VERY careful when buying a pet to make sure they are not from a mill. Petland was recently exposed for getting animals from mills http://www.petstorecruelty.org/boycottpetland.htm

If you want a dog or cat go to the local shelter and save an animal. AND the great thing is that pets from shelters are the BEST pets because they absolutely know they have been rescued. They will bond with you like no other animal. I have rescued a cat and most of my friends have shelter pets and they are all such awesome animals.

I adopted my cat 7 years ago from a shelter, and she has been the best and most affectionate pet I could ever have hoped for.

Another commercial like this one (and I don't even know if it's still on the air) is the one with Charlize Theron where she talks about… actually, I have no idea: I just see the dancing bear with the spike through its mouth and everything becomes a wash of tears and I have to change the channel. Or, I did, back when I had cable.

#

SanFran

on 08 Jan 2009 at 11:32 am

List/Deadlytorque: You bet your ass they know… People often say "animals are so stupid…."…

My point: last I checked, we're animals, too.

A rescue dog/cat seems far more willing to please than others, in my experience.

Glad to know Petland has been outed.. now for the rest of 'em.

#

SanFran

on 08 Jan 2009 at 11:35 am

OH… my other point is that I have a fundamental issue with purchasing life, if that makes sense.

Donating to a shelter – you bet… they do great, important work.

#

Pete

on 08 Jan 2009 at 12:01 pm

That video makes me want to start puching people (except Sarah, who I want to kiss).

I'd donate too, but the way the economy is going, my family and I will soon be eating ALPO for dinner, too.

#

Christine

on 08 Jan 2009 at 2:22 pm

I would give every single cent I owned to the ASPCA and WWF if they would stop running the sad dogs in cages/polar bears on tiny icecaps commercials while I'm trying to watch reruns of Top Chef. I love both groups, and I have a shelter dog myself, but, really, people, stop ruining my TV time.

On the bright side, anyone else see that story about the biker gang, Rescue Ink, that rescues animals and then "politely" approaches people they suspect of animal abuse and makes them change their ways? Why can't the ASPCA do a commercial with them? I'd like to see a commercial where they beat the crap out of someone running a puppy mill.

#

Hilltopper Happening

on 08 Jan 2009 at 2:51 pm

This ad reminds me of Mexico. I couldn't believe the number of sad looking dogs I saw when traveling around the countryside, so depressing. Thankfully I didn't have to listen to Sarah McLachlan's music in the taxi. Thumbs down on that too.

#

hodan

on 08 Jan 2009 at 4:42 pm

i actually had the guts to see the whole thing and thought the very worst part is the dog that's shaking(or shivering) uncontrollably. since I've never had a pet i was wondering, do they really do that? or is this from the abuse? i think the latter.

Hodan, Dogs shiver when they are scared. This is exactly why I can't watch this commercial. Just picturing this scene is making me incredibly sad.

Christine, That biker gang thing sounds awesome!

#

Christine

on 08 Jan 2009 at 6:17 pm

http://www.thesun.co.uk/sol/homepage/news/article2109771.ece#OTC-RSS

Christine, That's awesome, thanks for the link. I feel like a huge dick face because just yesterday I'm was making fun of people with tattoo covered faces and now here's this guy rescuing kittens. KITTENS for Christ's sake! I'm a jerk.

#

joe rosson

on 09 Jan 2009 at 9:12 am

The thing that really kicks my ass is that the song she is singing was used at a close friends funeral,I have to turn this commercial or I'll tear up. And then the pictures of the poor poochies and kitties just amps the cry factor to 11, and I'm a 39 year old man.On a side note, my daughter is going to be volunteering for a no kill shelter near our home in El Mirage,Az. Bless the beasts and the children.

Joe, give your daughter a big high five and a traditional low five from me for being awesome!

#

Matilda

on 09 Jan 2009 at 11:33 pm

Thank you so much for making me aware I'm not the only one out there. I can't get to the remote fast enough. I adore animals but these commercials haunt me if I watch them.

#

arnold

on 26 Jan 2009 at 6:03 pm

what a bitch

Arnold – Huh, who's a bitch?

#

Robin

on 04 Feb 2009 at 11:12 pm

I cry at this commercial everytime I watch it…sometimes I try to change it quickly but then I think, how can I just deny what is happening by changing the channel.
It is selfish to think " those animals are ruining my tv time" think of how they feel without much of people time, love , kindness, comapssion.

I do the monthly donations and have a feral colony that I care for and never, never hesitate to speak out or take whatever action I need to when I see abuse.

#

audrie

on 15 Mar 2009 at 4:05 pm

I do give……ASPCA is the only organization that Unicef has not notified that horror stories don't get donations. Tell us stories about how the animals are better, happier and safer because of the money, even a dollar, we might give. STOP the horrific commercials that hurt everyone. We get it, we need to give, and I do. But I wish they would tell a happy story for once – why can't they?

#

Rich

on 20 Apr 2009 at 9:58 pm

Audrie wants a happy story, I adopted a 6 year old Pom from C.P.P.R a month ago (Colorado Peke&Pom Rescue) he was a puppy mill dog. I have 2 other Poms, if you could only see his progress. He has a good home, no abuse ,runs and plays with his new friends..I don`t give to the ASCPA , I gave a mistreated dog a place to live! If you do a search on puppy mill dogs there are no good stories, the people running those places are the animals.

Rich – You rule, keep up the good work!

#

Neil London

on 19 Aug 2009 at 8:30 am

The Sarah Mclachlan "Angel" music in the ASPCA commercial was so powerful I wanted to use it as a background in a video of our rescue efforts to save a mother and calf Beaked Whales last week in Hollywood, Florida. The mother died in the arms of the rescue team on site and the calf was euthanized because there were no aquariums capable of caring for deep feeding mammals. Sarah's music is perfect behind this heartfelt video and I wanted to send it to her for approval to use her music track behind the video before we made it public in anyway. Can someone please send me with any contact information for her or her management. We have not been able to find any on her websites and are resisting contacting the numerous on-line talent agencies that solicit booking her for events.

My name is Neil London email neillondon@hotmail.com.

Here are two local news stories on the incident. The video in the second is not ours but of a local journalist from the Miami Herald.

http://www.sun-sentinel.com/news/broward/hollywood/sfl-whales-hollywood-bn081009,0,2061818.story

http://www.miamiherald.com/news/broward/breaking-news/story/1179834.html

thanks,

#

Robert

on 14 Jan 2010 at 5:05 pm

Why can't people just leave animals to live in peace in the wild and stop this insane cruelty of owning them, breeding them and trying to turn them into perpetual children.

Animals deserve our respect and are not intended to be our slaves. Sarah M is leading a campaign that perpetuates the idea that we have the right to own animals and ruin their lives with our unwittingly cruel practices of using them for our own comfort or pleasure.

Animal slavery needs to be abolished. Think about it. The slave owners of the past use all the same arguments you are going to use to justify your ownership of animals.

Robert – Domesticated animals need care from owners, their survival skills have been bred out for the most part. Not to mention, an animal in a loving home is probably the happiest creature on earth. When you take care of an animal properly, they fucking love life. I wish I had my cat's life! Making a correlation between responsible pet ownership and slavery is borderline offensive to those people who were actually enslaved. Lighten up, go get a puppy.

#

Jamie

on 28 Feb 2010 at 6:57 pm

I dislike this commercial as well. It's completely annoying and way too long!

#

Kale

on 09 Jan 2011 at 8:46 pm

Who pays for the commercials? Is the millions of dollars they collect paying for the commercials? Because today alone I saw the commercial over 20 times. It is a waste of a beautiful song. Anyone who believes that dogs and cats are happier in captivity I would disagree with. I get tired of the damn commercials exploiting the abused animals for profit and thats all it actually is. This is America everything is about profit. The ASPCA should be ashamed.

#

Mary

on 25 Feb 2011 at 5:04 pm

The commercial with the one dog shivering and wet in the mud breaks my heart. I sob everytime I see it and I turn it if I notice that music in time. I donate to the aspca and north league animal rescue, peta & humane society of the u.s. It's around 75 a month and I'm disabled and can't work, but my husband does and that's why I can do it. If I wasn't so sick, I'd volunteer at a shelter. Anyone can also go to igive.com and sign up and you can support an animal charity if you go through their site to get to the stores that participate. For example, I shop a lot at qvc and hsn and so far I've raised 100.00. Each time you do a search your charity gets 1 cent. It might not be much but it adds up and if only more ppl would do it. We just took in 2 cats last month. One was a stray and my daughter adopted the other and the landlord made her give it up so we took it. We also have a chihuahua and they are my favorite.

#

Steve

on 07 Aug 2011 at 7:56 pm

In this economy, when there are millions of people out work, losing their homes, and having to live in their cars, it is a shame and disgrace to beg for money to save dogs! I hate that friggin' commercial so much that every time I see it, I want to go out and run down every freakin' dog I see!

These ads were airing frequently on ESPN Monday Night Football. I had to force myself to watch them. They're excellent, especially the one that uses "Silent Night" as the background music. We have 3 cats-all rescue animals. I'm going to contribute $$$ to this organization. In Thailand, they have the death penalty for many different crimes; but they've outlawed euthanasia of animals at all Bangkok shelters because it's against Buhhdist principles.

Jeff – I love animals as well and that's why I can't stand to watch even a second of those commercials, even though I have given them money. Rescue animals are THE BEST! They totally know they have been saved and create the strongest bonds with their owners.

To anyone who doesn't know this already… NEVER buy a cat or a dog from a pet store, ALWAYS go to the shelter, for many reasons.

#

Jack

on 28 Dec 2011 at 2:33 pm

They should just outlaw these ridiculous commercials. Donate locally to your animal shelters, volunteer if you want to. But where does the money really go when you send it in? I hear Sarah McLachlan has a piano on layaway at Guitar Center….

#

Valerie

on 28 Mar 2012 at 9:13 am

I have to change the channel immediately when I see that and other commercials with the abused animals. Besides the heartbreaking pictures of the cold and shivering and blind dogs/cats, they pair them with the saddest music/songs they can find.

My husband and I ride country roads on a regular basis and put out dry dog food and clean out and refresh water bowls we've buried in the ground. People around here and probably everywhere put out puppies that you cannot even get to come near you much less put your hands on, so the least we've found we can do is go on these short trips every Sun. afternoon and often times Wednesday nights to try and feed the ones in about 10 or 12 spots we see them in.

Valerie – I hear you, we feed the feral cats here on Maui.