Jan 09 2009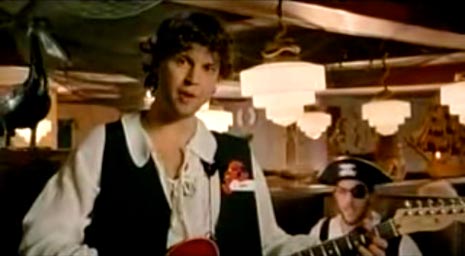 My complaint about the FreeCreditReport.com "Pirate" commercial is really a back-handed compliment I guess. That fucking song gets stuck in my head and hangs out in there well past its welcome. The party has cleared, the music has been turned off, I'm doing dishes and that stupid jingle is still hanging out on my brain couch. Leave already you dick!
I have every word of this commercial memorized and often find myself humming it. It used to only happen just after seeing the ad but now it will pop into my head at all hours of the day or night. Weather permitting, I ride a scooter and due to the lack of radio and my borderline OCD brain I will often have one song loop over and over in my mind for an entire 2 hour ride. Sadly I will catch myself singing "They say a man should always dress for the job he wants, so why am I dressed up like a pirate in this restaurant…" over and over until I force another song in my head.
In case you care, which you don't, the guy in the commercial is some Canadian singer/songwriter/actor named Eric Violette. I'm guessing poor Eric gets recognized and then promptly punched in the balls at least 4 times daily. That's an average of 2 punches per ball, per day.
Want to ruin your day?

19 comments to "The FreeCreditReport.com pirate commercial!"