Jan 26 2009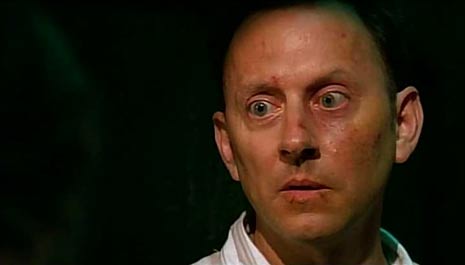 Originally I was just going to write about one thing I hate about ABC's hit show "Lost" but I fell into a minor rage spiral and now I have to mention a few things that make me crazy about this show. Here are the top 5 things that piss me off about Lost…
1) Ben Linus and his inability to blink.
You may recognize actor Michael Emerson who plays Benjamin Linus from nothing. You might also recognize that he suffers from "Hannibal Lecter Syndrome" which prevents an actor from blinking while in the process of over-acting. HLS usually strikes actors playing bad guys but it can affect anyone. Andrew McCarthy suffered from HLS during most of the 80's, ultimately ending his career.
2) All the men on the island and their inability to grow beards.
No matter how long these hunky hunks are stuck on this stupid magical island they lack the ability to grow more than 3 days' worth of stubble. I don't care if it's only a TV show, I want BEARDS!
3) Jack's inability to not breathe heavily.
For those of you smart enough to avoid this show, Jack Shephard is our hero and he's played by non-beard-growing Matthew Fox. Whether he's climbing a steep hill or picking up a coconut Jack is out of breath. You see, by sucking wind like a marathon runner an actor is able to communicate just how good he is at acting. The more intense the breathing, the better the acting. It's simple science.
4) Everyone's inability to not be able to not make a torch.
How are these jerks making torches? What is their source of fuel? Fuck you and your perfect torches!
5) Me and my inability to stop watching.
Why do I watch every week? Why do I allow these writers to force me to watch season after no-beard season when I am certain they have no idea how to answer all the questions raised by their own story? I hate myself.
33 comments to "ABC's Lost and me for watching it!"