Jan 29 2009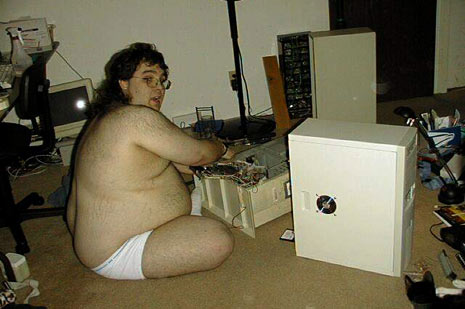 My sever is fucked up so the site might be down for a day. Fuck you computers!
16 comments to "Computers!"
#

Jeff

on 30 Jan 2009 at 1:17 am

Finally we get to see the man behind YJMML!

#

Bagel Bender

on 30 Jan 2009 at 1:21 am

Pretty much what I imagined him to be only with glasses added.

hes a lot slimmer than i imagined 🙂

#

Will

on 30 Jan 2009 at 4:11 am

Please tell me thats not him!!!

#

Jason

on 30 Jan 2009 at 6:09 am

That's so freaking hot.

#

Pete

on 30 Jan 2009 at 7:15 am

Time to cut the Big Macs and Whoppers from the diet!

#

kaotiksymphony

on 30 Jan 2009 at 7:37 am

Hotness

I hate everybody.

Can you really put the blog readers in the list ??

thats not going to work very well 🙂

#

Jeff

on 30 Jan 2009 at 11:16 am

It wouldn't bother you so much if it wasn't so near the truth.

Mine is down too – coincidence? I think not….

That picture is fucking gross!

FYI, it would take about 17 YJMML's to equal that guy. 😉

God I love this blog!! How'd you guys get a picture of me?!

#

SanFran

on 30 Jan 2009 at 5:57 pm

I can't tell if that is body hair or stretch marks…

Then again, I would rather not know.

How can you sleep at night, bestowing a photo like that upon us innocents?

#

Yubbers

on 31 Jan 2009 at 12:15 am

A Fuckin' men SanFran.

How DO you sleep at night YJMML? I'm quite disturbed right now. More than any of the other pictures you've posted, this one bothers me the most. Blech…

That needs to be your FB pic.