Feb 04 2009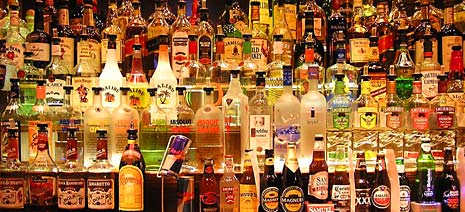 Yeah that's right, I have a terrible hangover so this post is going to suck balls. When I get a hangover it renders me useless for the entire next day. I literally spent the day sick on the couch (not including when I was sleeping on the bathroom floor).
Rather than try to be creative I will simply tell you about the last time I got absolutely blind drunk. I attended a wedding for a couple I did not know well so I sought companionship from several gin and tonics at the open bar. The wedding reception was followed with a stop or two at some local bars. Sometime around 4am I woke up and punched myself in the face. I guess I'm an angry drunk. During this self-induced face punch my thumb went up my nose causing blood to pour all over the place. Still drunk I stumbled to the bathroom to attend to my nose and to possibly barf. I should mention by this point I was literally soaked from cold sweats. So there I was with my face resting on the toilet seat which was now covered in sweat and blood. The room was spinning and I desperately wanted to throw up but just could not make it happen. For some reason I decided I needed to poop so I stood up on my shaky legs. The next thing I remember was a loud crash that sounded exactly like my head hitting the floor. Turns out it was my head hitting the floor. The crash woke me up so I stood again, pulled down my sweaty, bloody underwear and sat on the toilet. In the meantime my wife woke to a blood soaked bed and a missing husband. She walked to the bathroom and was trying to open the door but I held it closed. What happened next still confuses me. I sat there on the toilet whimpering and speaking pure gibberish. I mean I was sitting there really balling bawling like a crazy person.  I never pooped or barfed.
I did not drink for a long time after that.
18 comments to "Hangovers!"