Feb 06 2009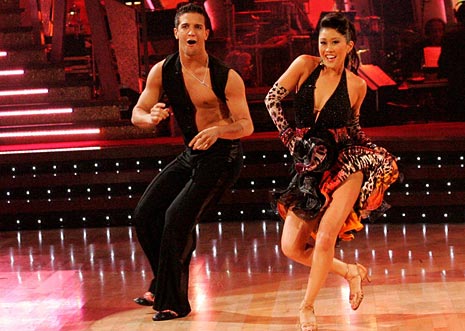 I simply refuse to believe there are more than 14 people watching all of these "dancing with some asshole" shows. There are at least 5 dancing shows on TV right now, probably more but I REFUSE to research it. How is it possible a single person wants to watch dancing? HOW (followed by violent punching of my keyboard)?
I could understand dancing shows being popular in the mid seventies when all those awesomely shitty variety shows ruled the airwaves but in the year 2009? I just don't get it. How is it possible, when all of society is walking around like they are straight out of Compton, a show about d-list celebrities flitting around in glittery jumpsuits is a #1 show?
Our country acts so fucking macho all the time but these shows have such high ratings that there has to be more than a handful of good old boys secretly watching with a beer in hand and a jar of nacho cheese resting on their fat bellies. Does this cheese fly across the trailer when they stand up in a rage because Rocco DiSpirito gets voted off when Susan Lucci clearly deserves to be sent packing? Does a single tear fall to his Dale Earnhardt sleeveless t-shirt when Ian Ziering nails a flawless Viennese Waltz?
I relate to nothing.
37 comments to "Dancing shows!"