Feb 09 2009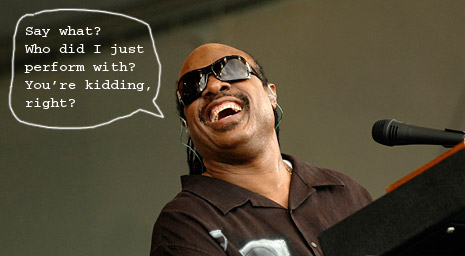 I was already having a bad day and now this?
I went to see "Paul Blart: Mall Cop" and not only was I punished for this decision by having to sit through it, I now have a cold that I undoubtedly caught from one of the many mouth-breathers who made up the audience of cackling idiots. Just when I thought the day was winding down and I could drift off to sleep on the couch I accidentally turned on the Grammys. What I saw will haunt me for the rest of my life.
Do you remember the first time you saw footage of that Vietnamese solider shooting that Vietcong guy in the head? Remember watching this man die right on the street, blood pouring from his head? Take that horrible, disgusting, soul-crushing feeling and multiply it by approximately 523,038 and you will know how I felt seeing the Jonas Brothers shitting their shit all over "Superstition" while poor Stevie jammed along with them obliviously. Who is responsible? Who could do this to Stevie? Did they tell him it was Radiohead or The White Stripes? Taking advantage of a blind man like that makes me sick. SICK!
I mean that's the only way Stevie Wonder would ever perform with the Jonas Brothers, right?
15 comments to "The Grammys for tricking Stevie Wonder to perform with the Jonas Brothers!"
#

Jeff

on 09 Feb 2009 at 3:09 am

Guess I should be glad that I'm too old and out-of-it to know who the Jonas Brothers are.

#

Roy Garmen

on 09 Feb 2009 at 4:09 am

I agree the Jonas Brothers are not worthy of performing a great Stevie Wonder song with the man himself, but Stevie jumped the shark way back in the 80's with "I Just Called to Say I Love You" and hasn't recorded anything to my liking since. But of course his previous catalog is pretty spectacular, which is more than will ever be said for the Jonas Brothers.

And I haven't been able to watch the Grammys since 1984. That was back when a majority of mainstream music was actually worth listening to.

#

Pete

on 09 Feb 2009 at 7:28 am

I stopped watching the grammys years ago, sometime in college, when I realized that most so-called "artists" who are nominated to receive this recognition are industry hacks, whose name and image are simply slapped on bland "product." The award show still features some tried and true musicians, like U2 and Stevie, to keep us older folks interested. But c'mon. Jonas Brothers? And I realize some people like Coldplay, but they never really did anything for me. Plus, the big hit from their new record is the subject of a copyright infringement suit. I'm sure any likeness was coincidental, but you'd think you'd want to keep on the downlow for a bit. Guess not.

Ok that how thing was just shitastic! I almost wanted to gauge my eyes out with a spoon seeing this. Who's bright idea was it to have the Jonas brothers butcher a Stevie Wonder classic. I don't even have the words to express what the hell it was that I witnessed. It was like being forced to eat sewage with a spoon made of moose shit!!!

Great to see my jr. high art teacher, Roy Garmen, checking in. (nice one!)

#

Yours Truly

on 09 Feb 2009 at 2:27 pm

I saw a picture of Jonas Brothers in the newspaper a few days ago, and they remind me of that shitty band Hanson. Can't they invest in a mirror and try to look less douchey?

[…] Stevie Wonder's rendition of "Burnin' Up" and "Superstition" with the Jonas Brothers.  If only Stevie could see how big of twats the teenie boppers are.  Sure […]

#

SanFran

on 09 Feb 2009 at 3:27 pm

I am thankful for the small things in life, like not even knowing the Grammy's were happening. Also, I've never heard or heard of the Jonas Brothers, and I still have no idea who played in the Superbowl.

For these things, I am thankful.

#

hodan

on 09 Feb 2009 at 5:43 pm

oh SanFran how i envy your blissful ignorance.

the only bits i caught of the grammy's was Chris martin's wife, Fishstick Paltrow, introducing Radiohead(who owned it!). even Fishstick knows her husband's band is as original as a box of oranges.

#

XIX

on 09 Feb 2009 at 6:24 pm

Speaking of the Jonas brothers, I noticed something during the show that made me chuckle a bit.

After Katy Perry's sexy-yet-uncharismatic performance of "I Kissed A Girl," the camera briefly cut to the Jonases, and I swear all three of them had their legs crossed.

Also, who was the chucklehead in charge of sound? You'd think a show that literally revolved around music would have some decent sound engineering.

That picture made me laugh so much. It took ages for me to find an article that shared my opinion on the Jonas Brothers. Also, wouldn't you love to see Katy Perry singing "I Kissed A Girl" when she's like 50-years-old or something? Can't wait.

#

Yubbers

on 12 Feb 2009 at 5:55 am

I'm really upset by this. I won't even dare try to think of something snarky or cute to say. I am just upset. Thanks YJMML. I would have never known this if it wasn't for you.

I guess I can give you some slack for being sick, but it's no excuse! Don't let this happen again. I know things.

i dont get them

#

justaperson

on 17 Mar 2009 at 5:30 pm

The Jonas Brothers SUCK, they don't even PLAY their guitars folks. Rewind back to when they played that halftime show at the now deceased Texas Stadium. PUH-LEEZE. When Stevie Ray Vaughn did SUPERSTITION with Stevie Wonder, THAT was noteworthy. But the JONAS BROS??
NO WAY!!!!

#

Armani Blackburn

on 20 Mar 2009 at 1:24 pm

its not the best song but its pretty cool