Feb 13 2009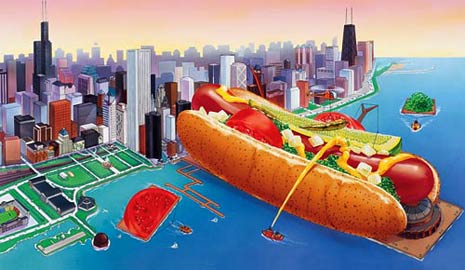 OK, I will explain this one time and one time only… NEVER put ketchup on a hot dog!
The only exception is if you are a child. I have come up with a handy way to know if you are too old to put ketchup on a hot dog. If you are old enough to grow pubes you are too old to put ketchup on a hot dog. It's that simple. As Maurie Berman, owner of Superdawg, says "Ketchup on a hot dog is an abomination!"
So what is allowed on your precious wiener?
– All-Beef frank, grilled not boiled
– Neon green relish
– Raw white onion
– Yellow mustard
– Cucumber slices
– Tomato wedges
– Shredded lettuce
– Dill pickle spear
– Celery salt
– Hot sport peppers (optional but advised)
– All resting nicely on a steamed poppy seed bun
In Chicago this is known as "dragging it through the garden." As a hot dog expert I can tell you there are no better hot dogs than in Chicago. New York easily wins the pizza battle but Chicago owns the hot dog.
(said in annoying whiny voice) "But I like ketchup on my hot dogs." BULLSHIT! Stop embarrassing yourself.
Best Chicago style hot dog: Murphy's Red Hots – 1211 W. Belmont, Chicago
Best fancy dogs: Hot Doug's – 3324 N. California, Chicago
43 comments to "Ketchup on hot dogs!"