Apr 06 2009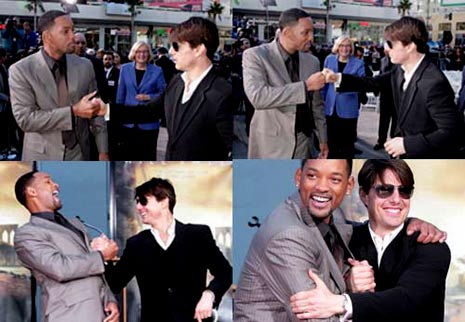 Look, I just want to shake your hand, not dance the forbidden Lambada with you.
I was in a band for years that primarily appealed to a male audience that was usually younger than I am. Often times after we saw a hundred faces and rocked them all, those faces would line up to tell us how fucking awesome we were. They were right. Maybe I'm a fuddy-duddy, but I used to PANIC when some young DJ-type guy would stretch his hand towards me with a smile on his face because I knew I was about to fail at being "cool."
I could always tell right away from the angle of the hand that this was not going to be my grandfather's handshake. Oh no my friend, this handshake was going to involve all my concentration and would most likely end in a one-armed, back punching, bro hug. If not a hug, it would at the very least, require me to anticipate what his hand was going to do next in a lame attempt to mimic his movements, thus maintaining my status as the coolest guy in the room. If we locked hands in a soul shake would it end there, or do we have to do that finger-snap thing as we release? I'm sweating just thinking about it. Not only do I not know how to do that finger snap thing, I don't fucking want to know how! I refuse to practice. I refuse to learn.
I bet a Guy Fieri handshake lasts like 45 minutes and ends shirtless. I have to go throw up.
21 comments to "Complicated handshakes!"
#

jason

on 06 Apr 2009 at 7:53 am

Unless you are part of some athletic team these "handshakes" should be outlawed and the punishment for infraction should be death.

If you're doing this thing you have too much time on your hands or you're way too cool for everyday life.

#

Xina

on 06 Apr 2009 at 7:57 am

That post was so funny I want to shake your hand my good man!

But first I'll need you to sign this accidental death waiver. Just a mere precaution.

#

hodan

on 06 Apr 2009 at 12:33 pm

my brother and his boys have these kinds of handshakes all complicated and shit.i've never seen any white people do it though, i would like to.i bet it's awkward and funny all at once.

#

justaperson

on 06 Apr 2009 at 1:00 pm

Even though you propably won't say it up here, you've aroused my curiosity listy….
what band were you in??

#

SanFran

on 06 Apr 2009 at 2:03 pm

Ahhh, yes – the 'decorative handshake'. They suck. The measure of dudeness is a solid handshake and eye contact. End of story.

#

Paul in Saint Paul

on 06 Apr 2009 at 2:44 pm

Try teaching elementary school in an urban area and maintain some rapport with kids while avoiding complicated handshakes. Luckily, I'm almost always hauling tests or books so I have no hands free and I just stick out my elbow for the kids to smack hello. This also helps cut down on germs spreading, since my elbow can't reach my face. So if you're worried about the complicated handshake, shove an elbow out and let the other greeter figure it out.

#

Blades runner

on 06 Apr 2009 at 3:32 pm

I too dread the complicated handshake, seems like every year there's an addition to that finder snap release one. Hate it!

Great suggestion, Paul. I'll add the elbow tap to my greeting arsenal.

#

Tommy

on 06 Apr 2009 at 5:28 pm

i like complicated handshakes so fuck you losers

#

Paul in Saint Paul

on 06 Apr 2009 at 5:53 pm

Tommy, you are really going to get a taste of my elbow someday. Put 'er there, fella.

yeah, really tommy. what is up your ass? or more importantly, what isn't up your ass that causes you to be such a jerk?

justaperson – I kind of don't want to say because I would rather remain anonymous. Let's just say we were as big as Motley Crüe but not as big as the Beatles. We were better than both though.

Tommy – I agree, fuck me! Wait, what?

Worse than the impassioned, complicated handshake is what I like to call the 'dead fish' handshake. You know, where some guy extends his hand to meet another but instead of shaking it with a firm [but soft] grip, he places his hand IN yours like a dead fish. It's creepy and makes me hate people. People I would otherwise like. How do people not know they are doing this?

Creature – YES, the limp, flaccid handshake sucks ass. Give me your hand boner! What am I talking about? Can you tell I have been working 13 hour days for the last several days?

Ha, hand boner. I especially hate it when I get the limp hand, in addition to the sweaty palm. Ick.

Hand boner….LMAO.

Sometimes I wonder if men do it to me because I'm female and therefore a delicate flower. Good to know men receive it too.

#

justaperson

on 07 Apr 2009 at 11:35 am

Listy, at least you answered…. I completely understand the privacy thing.
Keep kickin ass with your site!!!

AND I TOTALLY agree w/the "Dead fish" thing. Ick…

#

Buckykatt

on 07 Apr 2009 at 7:11 pm

I wouldn't want to shake hands with Guy Fieri. I wouldn't know where his hands have been, and greasy food would be the least of my worries. The hyperactive little Heat Miser wannabe might have been looking for the proverbial hand boner.

#

Buckykatt

on 07 Apr 2009 at 9:19 pm

For your viewing pleasure, behold the Kulinary Gansta

http://guyfieri.blogspot.com/2009/04/product-of-his-parents-cooking.html

Bucky – Why? Why did I click on that link? His "S'more Eggroll" looks more like a jizz eggroll. I hate that tool so much.

If I'm not mistaken, complicated handshakes are how homosexual space aliens exchange amino acids. It's crucial for their survival. Also the only word in their language is 'bro'.

#

man crush

on 13 Apr 2009 at 4:53 pm

YJMML
I bet you wish Guy Fieri would offer to shake your hand…maybe, if your pray to the Blog Gods, the day may come when you get the chance