May 05 2009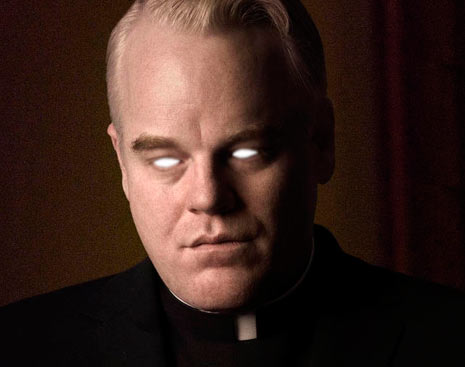 After working a 16 hour day yesterday (and not writing for this website) I finally let my head hit the pillow for a good night's sleep. As usual I woke up feeling less-rested than I felt when going to bed. I hate my dreams.
My dreams consistently include 3 major themes: frustration, fear and celebrities. My dreams will often last for what seems like hours and usually end with me waking up feeling terrified, stressed or both. I might spend the night shooting raisins at Corey Haim or maybe I'm driving Miley Cyrus and a vacuum cleaner around the city while she sings "Don't Go Breaking My Heart." Both of these nightmares are real. I also recently had a dream that included a magazine on a table called "Manhole Weekly."
Last night was a typical dream where I try to accomplish a relatively simple task that ends up becoming complicated and stressful. The short version of last night's dream is… I went to buy a 12 pack of beer for an engagement party of a girl I worked with 12 years ago. When I arrived I thought it would be funny to call in to the talk radio show they were listening to and make some joke specific to them. I finally got through to the station and was put on hold. In the meantime they had switched the station. I walked into the room they were hanging out in, spilling and trying to gather beer cans the entire time, and tried to find the correct radio station for my ruined joke. In my dream, this was like a 15 minute process. Finally I said fuck it and sat on the couch with Philip Seymour Hoffman who was dressed as a priest. I excitedly told him my band had been chosen to do the soundtrack for a new blockbuster movie called "The Reconstructionist." Upon hearing this news he became intense and pulled my head onto his lap. He stared at me and said "is that right?" and then his eyes became totally white for about 2 seconds. This might sound dumb but in the dream this was terrifying. I sat up and said "I guess I will just sit up now and shit my pants." Then I woke up from fear. It took me a good 15 minutes to get over how scared I was.
Just another typical bullshit night!
18 comments to "My dreams!"
#

jason

on 05 May 2009 at 8:52 am

I love it! Someone else has totally crazy dreams also. Further validation that I'm not a wacko!

Your dreams sound very similar to my own except, I'm my dreams I dream cheat. Mostly with women I don't know and sometimes with celebs. The last one was with a colossal fat woman and she didn't even buy me beer first. I'm often naked in public and nobody seems to notice but me or I've been imprisoned for some reason I don't even know.

Come to think of it your dreams aren't anything like mine. I'm fine but you may be crazy.

#

Xina

on 05 May 2009 at 9:29 am

Way to go Listy. Now you're encouraging other douchebags to tell you their dreams.

That's it, we're broken up.

#

SanFran

on 05 May 2009 at 9:34 am

I used to dream a lot, meaning – I used to have memorable dreams… but in '93 I experienced a rather stressful, shocking situation… and my dreams ceased for many years. I guess this happens – my mother had the same experience as I.

Anyhow, I don't feel as though my ability to recall dreams, or the intensity of said dreams, has ever returned fully. The result, peaceful sleep, mostly.

The mind is so strange/fascinating…

NOOOOOOOOO, I won't let you go that easy Xina! I LOVE YOU GOD DAMN IT!!!!

My brain hates me.

#

neish

on 05 May 2009 at 10:47 am

I just woke up from a nap and I dreamed my friend messaged me on msn so I woke up suddenly thinking I heard the msn sound but alas, no message and now my nap is interupted 🙁

Then I find you posted this and it's creepy coincidental >.>

I wish I could dream… I envy you.

Your dreams suck, I am the nightmare of humanity.

I need to go abuse someone and make lewd comments to the elderly and juvenile.

#

SanFran

on 05 May 2009 at 12:40 pm

how many times have you guys woken up from a dream, thinking the events actually happened… for hours? One day, back in college, I woke up and was PISSED some motherfucker stole my mountain bike… even though I had walked past it in my room about a dozen times…

strange shit.

#

Paul in St. Paul

on 05 May 2009 at 3:37 pm

Dreams are entirely too violent these days:

http://www.theonion.com/content/video/should_we_be_doing_more_to_reduce

#

Xina

on 05 May 2009 at 4:16 pm

Oh Listy, you know I can't walk away from you so easily. You're my heart! Just keep hitting me. It makes me love you more.

#

hodan

on 05 May 2009 at 4:18 pm

the only dreams i ever have always involve me falling of buildings and i don't know why?!

#

SanFran

on 05 May 2009 at 5:09 pm

I know why, Hodan….

but that, I'm afraid, isn't for you to know.

Defenestration is the new way to go… Embrace it.

#

jason

on 06 May 2009 at 5:34 am

Xina may be yours listy but I covet her.(who uses the word covet anymore) weird!

My dreams always revolve around my teeth rotting and falling out in front of someone. Like, I'm in a meeting or I'm at an event and speaking, and they are just rotting and I can feel all pieces in my mouth and I am spitting out pieces of my teeth into my hand. All. The. Time. I dream this. WTF? I'm also a big running/falling dreamer.

I'm screwed.

Losing your teeth is a very common dream but I have only had it happen to me once, that I can remember. I have a lot of dreams where I can't run and I have to literally claw my way with my fingernails to move. Horrible!

Jason – Keep your hands off my woman!

#

jason

on 06 May 2009 at 11:31 am

Can't help it man, Covet COVET COVET!!!

#

Xina

on 07 May 2009 at 1:22 pm

Jason, I never knew! I've contacted Listy for your email address in the event you're ever in Orlando and would like to covet me over martini's.

Or perhaps we could view some of the wild hogs of the Everglades. Whichever.