May 26 2009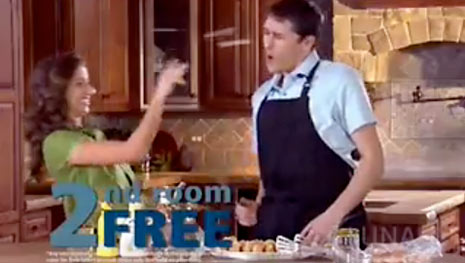 Does this piece of shit commercial only run in Chicago? If you have not seen it, I apologize in advance for ruining your day. I might even be ruining the joy of cooking a meal that ends with a playful food fight with your lover, and I know how much you love that.
The level of fake fun in this Luna commercial is excruciating! If given the choice of kicking either Guy Fieri or this spatula-singing fuckface in the balls, I would seriously have to think about it for several minutes before kicking them both in the nuts and acting like I misunderstood the question.
I'm sorry.

While doing my "research" I discovered that Luna has been around for a long time. Although I grew up in the Chicago area I have never seen these gems. They almost make up for the "Free Flooring" cock-licker.
49 comments to "The Luna "Free Flooring" commercial and also fake fun in general!"
#

jason

on 26 May 2009 at 5:15 am

Commercial is well acted and totally believable, perhaps this guy will release a spatula greatest hits album. Seriously, I haven't seen a nose that big on screen since the humpty hump video. Somehow though she is still attractive to me. Am I crazy or just into big schnozes?

#

hodan

on 26 May 2009 at 11:36 am

WTF where do you find these things?

DAYUM, the girl has a huge nose.

#

Paul in St. Paul

on 26 May 2009 at 4:59 pm

The Spanish commercials with Señor Luna personally attending to your phone calls are worlds better. I also like the connection to the tailored plastic furniture coverings, which seem to be out of vogue in recent times. Regarding the modern-day commercial, are there NO better actors out there? Was the spatula-wielding dick in that stupid apron actually the one who stole the audition? Where is the casting director of finallyfast.com at these crucial moments?

#

Yours Truly

on 26 May 2009 at 5:27 pm

Now I'm free…
Free Flooring…
Yeah I'm free…
Free Flooring…
Uh..na,na…
na,na,naaaa….
Free Flooring…
Uh……

Fuck it I tried.

Hey, want to hear a joke I just thought up about that girl's nose? Her nose is sooooo big, it affects her confidence when speaking in front of large groups of people!

HAHAHA!

#

Jeff

on 26 May 2009 at 5:36 pm

The last one is the best thing you have ever posted. He shows you the sweat shop as well as his crummy office. I can almost hear shouts of "travaho" followed by furious stitching.

#

Paul in St. Paul

on 26 May 2009 at 6:55 pm

Yes, furious stitching on PLASTIC! The announcer is boasting of the expertise of the seamstresses in plastic sewing. What year is this from? That pink bedroom at the very beginning is fucking outrageous.

There are even more to be found here…

#

John Martin

on 29 May 2009 at 9:14 am

I think that guy looks HOT!

#

Sally Ann Kavanaugh

on 05 Jun 2009 at 6:38 pm

Thank you for articulating how ridiculous this piece of shit commercial is. It made me and my husband's day to find out there are other people who think the free flooring guy is a total douchebag.

Sally Ann Kavanaugh – What is this I see? A female fan of Fletch? Is that even possible?!? Kudos.

#

Aub

on 08 Jun 2009 at 8:18 am

I am totally into the free floorin guy. He is hot!!!! I love the shot where he is sitting on the carpet and caressing it. Mmmm, how can I find out more about him? I bet he is here in Chicago somewhere…

#

Fuck free floorin guy

on 10 Jun 2009 at 12:40 pm

i effing hate this commercial soo much. i see it all the time and shit my pants everytime.

i wanna find the d-bag 'free flooring' guy and kick him in the balls .

he should be embarrassed to be in that commercial .

#

john

on 10 Jun 2009 at 9:21 pm

i think she is friggin HOT….

i have also been wondering if I was the only one who thought this commercial was ridiculous. but i can't look away from it when it's on. I just did a search to see who else feels the way i do and found your blog, you couldn't have said it any better. haha. thanks!

#

actrguy

on 17 Jun 2009 at 11:40 am

Anyone know the 'Free Flooring' actor's name? I think I did a show with him in the past but can't recall his name.

#

Chris R

on 20 Jun 2009 at 2:31 am

Also, spatula singer has a crazy under bite. Man this is a terrible commercial.

#

Zoe

on 20 Jun 2009 at 7:33 am

I live in Chicago and I see this commercial ALL. THE. TIME.
It is so annoying! But, and I know this is a horrible thing to say, the thing that annoys me the most is the woman's nose. As shallow and superficial as it sounds, her nose is SO BIG!!! 🙁

#

Steven DiLauro

on 26 Jun 2009 at 2:26 pm

Good news everyone! The Luna spots run here in Baltimore as well. "Good news" meaning 'you're not alone, and there is someone else repugnated enough by this stream of horrifyingly abortions of commercials to want to stab his eyes and ears out every time they're on.' There's another one too, the first Luna commercial I saw. "'blahblahblah I mean I didn't need a new chainsaw, I needed someone who could help me with flooring!' . . . ' . . . there's no need to shop at a 'big-box' store.' 'Uuuuuuuunless you need a new 2×4!' [All three abominable 'actresses' do the 'I'm laughing even though I'm not' head jerk.]" I know this is probably going to sound sexist, but am I the only one who thinks these commercials are trying to appeal to the over-coffee-conversation housewives who don't know a single thing about flooring and are thus not met by the incompetence of the 'big-box' store, but their own inability to talk to anyone who knows how to do anything than make an unfunny sarcastic remark?

#

Tom Petty Lawyer

on 30 Jun 2009 at 9:37 pm

This is a copyright infringement on Tom Petty's Free Falling song. Same melody, same tempo…… Lyric ripoff! Anyone agree?

#

John FaLooring

on 01 Jul 2009 at 9:25 pm

No doubt the ding dongs in this commercial are poor actors,but my question is…Does he really say "free flooring" or is it "free for Lauren(girl's name ?)"or is it "Free for loving "(as in loving being a total douchebag.)?
A few of my friends think it's flooring and some think for lovin'.
One person thinks its for Lauren…
Help me settle this stupid debate please.

#

Brady

on 05 Jul 2009 at 9:03 am

What are they eating, salad and hot dogs? I always think she is throwing little pieces of lettuce at him, but can't figure out what he is cooking – it looks like hot dog buns??? If so, what are they using the spatula for?

I'm also trying to figure out who the actors are. I think they are brother and sister, likely related to the store owners.

#

chris

on 29 Jul 2009 at 2:14 pm

this guy rules

#

Ricky

on 14 Aug 2009 at 5:45 pm

I used to see that commercial at least a half dozen times a day. Every single time I noticed the woman's big nose. And yet, she still looks very attractive.

#

Renee

on 17 Aug 2009 at 5:17 am

OMG!! I along with my son and sister hate, hate, this commercial…and especially that no acting free-flooring person. I knew we couldn't be the only one…lol

#

Dopey Jones

on 01 Sep 2009 at 5:18 pm

That woman pictured in the above site really does have a big beak. I agree to be as natural as possible to give the impression that these people are reality, but that's a bit too obvious.

On another note, the newer commercial currently running is so stupid. First, what the fxxk is that guy doing at the beginning of the commercial flipping something around? Second, that woman is hot, but it's sounds so phoney like she's a "professional announcer" with her "and LOVE MY FLOOR" deal. Please. TV sucks.

#

Jeff

on 03 Sep 2009 at 10:17 pm

Is there a rule that carpet commercials have to be terrible? It's like those really bad Empire Today commercials with the bad jingle that sounds like it's from the 60's.

#

John

on 16 Sep 2009 at 9:53 pm

I live in Southern MD and see this spot all the time. I just can't get over the size of that girl's nose. I can't stand the commercial but I can't look away. Doesn't she look cross eyed a couple of times during the spot? It's got to be from looking down that ski slope. I hope she uses the money she makes from the commercial to get a NOSE JOB!

#

George

on 18 Sep 2009 at 9:20 am

I also live in MD and am subjected to this commercial on a daily basis. I don't think I can say anything that hasn't already been said about the spatula wielding Tom Petty wanna be, but man that girls nose is like a train wreck. It's hideous to look at but you have to look every time the damn commercial is on.

#

Munchroms

on 17 Oct 2009 at 6:33 pm

Ready for a cliché? Good.
I don't have a problem with gay people BUT
to cast a guy who's clearly flaming as being married never works well. Dude looks akward as possible in every part of the commercial. I'd also like to thank this company for ensuring the fact that I'll forget useful information, but always remember:

seven seven three
two-oh-two
beep-bop-boop-bop
LUNAAAAAAAAAAAA

#

steve

on 05 Nov 2009 at 6:00 pm

She has maybe the biggest nose i ever seen on a female and probably bigger then most mens too

#

john

on 03 Feb 2010 at 9:36 pm

Back By Popular Demand !: FREE FLOORING !
The lastest rehash of Luna commercial

#

LSM

on 25 Feb 2010 at 12:13 am

I'm know Tom Petty, I'll see if he knows they're stealing his song!

#

RJ

on 01 Mar 2010 at 8:32 pm

This POS commercial ranks right up there with that "Olson Rug shop at home" commercial that was played at every commercial break a while back. I'm so glad this one is "back by popular demand", because I'm getting more exercise running from the room when it comes on! I think Luna is really trying to keep up Chicago's long time history of bad commercials for local companies, most notably….carpet.

This commercial is also here in the Baltimore area. I wonder if the nose on that woman, on this annoying commerical is real?

#

Greg

on 29 Sep 2010 at 4:50 pm

Sure wish I had her nose full of nickels, I'd retire early.

#

banga

on 14 May 2011 at 10:24 pm

i'd bang her in dat big banana nose wit my big banana cock!

#

banga

on 14 May 2011 at 10:26 pm

This POS commercial ranks right up there with that "Olson Rug shop at home" commercial that was played at every commercial break a while back. I'm so glad this one is "back by popular demand", because I'm getting more exercise running from the room when it comes on! I think Luna is really trying to keep up Chicago's long time history of bad commercials for local companies, most notably….carpet.
***How's yo wife's carpet an do it match da drapes? O is it a smooth flo?

#

rennyd

on 16 May 2011 at 11:29 am

It's playing in Boston now too.
I think it's the best commercial ever!

#

RagingBuddhist

on 16 May 2011 at 7:52 pm

I can't find the mute button on the remote quick enough when that commercial comes on. I called their toll free number and, even though I'm sure I wasn't the first person to do so, proceeded to tell them I'd never buy from Luna BECAUSE of their insipid commercial.

#

batista

on 17 May 2011 at 8:10 pm

# RagingBuddhiston 16 May 2011 at 7:52 pm
I can't find the mute button on the remote quick enough when that commercial comes on. I called their toll free number and, even though I'm sure I wasn't the first person to do so, proceeded to tell them I'd never buy from Luna BECAUSE of their insipid commercial.
****and they said, fuck you MR. INSIPID!

I don't have a small nose but when I saw this commercial I thought it was a parody on Pinnochio and that she her nose was growing!

#

Marc

on 23 May 2011 at 11:28 pm

It is playing in the Milwaukee area. I've seen it many times. I don't even know what it is about this commercial that everyone hates. I didn't even know what it was advertising. All I could to was stare at that nose. Was it real? Are they trying to show it off by all the profile shots? So, I waited for it again and saw that it was Luna. Then I googled luna and nose and found your website. Good to know I'm not the only one fixated on "the nose". But, no, it is not a turn on!

Dick Nose

#

TJ

on 28 May 2011 at 7:34 am

Unfortunately it's playing here in southeast Massachusetts. I too think the commercial is corny, however I can't look away.

Don't drop the soap when you take a shower with her!

#

ChiGuy

on 06 Jun 2011 at 3:37 pm

I personally don't give a rat's azz about the commercial itself. We've got plenty of asinine local productions to choose from (the aged and slobbering Al Piemonte just for starters), so I'm probably numb.

But, I happen to have a thing for women with….ummm…."pronounced" noses, and I think the one in this ad is HOT.

#

Nuklhed

on 09 Jun 2011 at 9:18 am

They just recently started showing this total piece of shit here in the Boston area. Could they have found two people more annoying? I'd like to give the guy a good beatin', roll him up in some free Luna carpet and throw him in the harbor. Also last time i saw something with a nose like that it was wearing a saddle and carrying a jockey. AAAARRRGGGGHHHHHH!

#

Flee

on 09 Jun 2011 at 4:37 pm

What a shnoz on her, but still good looking, quite the puzzle…….

#

Kush

on 18 Jun 2011 at 9:24 am

Currently playing in the Baltimore area