May 27 2009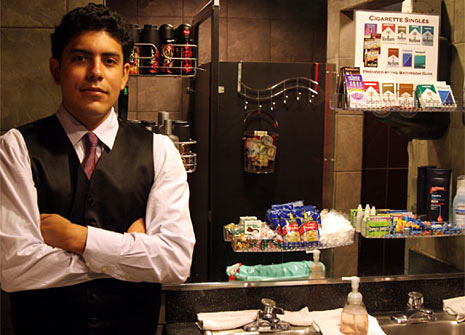 Hey thanks for handing me that towel that was 1 inch away from my hand, I would say that's worth about a dollar. And let me also thank you for staring at me from your little stool while I took a piss, it did not make me the least bit uncomfortable. Now, if there was just someplace nearby for me to get an extra splash of Drakkar Noir. What's that you say, YOU have Drakkar Noir? Right here in the BATHROOM? Kind sir, you are a life saver! Just give me a $1 stick of gum and I will be on my way. Whoops, I've spent so much time shopping in the bathroom that now I have to go poop. What does it cost for you to wipe me?
Since most bathroom attendants are sad looking old guys I'm not actually putting them on my list, it's really just the concept of the modern-day bathroom attendant that upsets me. I say modern attendant because I'm sure there was a time, back when people got dressed up to go out, when these people were slightly more necessary. But now that every fat ass is walking around in denim shorts and Crocs, it just seems weird to have a guy in a tuxedo sitting in the bathroom.
I always cringe when I walk into a bathroom and see an attendant. I often try to decide if it would just be easier to pee my pants and get the hell out of there. I'm sorry, I just don't want to pay a guy to hand me a towel!
However, the one thing that makes these guys awesome is when they fill the urinals with ice. Oh sweet lord, I love to pee on ice!
22 comments to "Bathroom Attendants!"