Jun 02 2009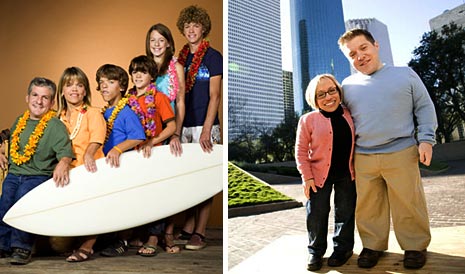 Enough already with the little people, TLC! I have nothing against these (or any) little people, but that does not mean I want to watch them buy groceries and mow the lawn. No offense little people, but you are as boring as "normal" people. Just because you are wearing doll clothes, it does not make the mundane suddenly exciting. WOW, that was mean! Sorry about that little people, you just got hit with a little (no pun intended) rage shrapnel. My beef is really with TLC. The latest addition to their cavalcade of tiny people is "The Little Couple." From what I gather it's a show about a couple that is little. I bet the Roloff family from "Little People, Big World" is up in tiny arms over this new show.
Is it just me or is TLC turning into the freakshow tent of the basic cable circus? Seems like every time I whiz past TLC, there's either an 800-lb. woman being lifted from her bedroom window by helicopter or a there's a fucking guy turning into a tree. A TREE!
I'm sorry, but doesn't TLC stand for "The Learning Channel?" What exactly am I learning from TLC? I'm learning to thank pretend God for not giving me two heads and extra hands growing out of my back.
32 comments to "TLC's fascination with little people!"