Jun 12 2009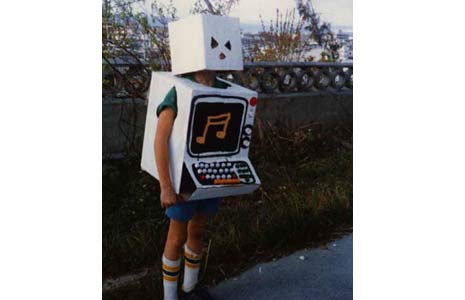 I would give an example of what I'm talking about if I knew the name of a single current pop star. Instead I will have to describe it.
I hear these shitty songs at the gym or at stores all the time. You know the ones, they are generic, soulless "R&B" hits that sound like they are sung by C3PO. I think Kanye West did an entire album as a robot, if I'm not mistaken. I wish I was mistaken.
Not only does this studio technique sound ridiculous, but it also illustrates the utter lack of a single creative or original thought in modern popular music. But now you say in a whiny voice, "pop music is always like that, no matter what decade you are talking about," to which I reply, "shut up, even when I'm wrong I'm probably right." Either way, it's fucking annoying to listen to while I'm blasting my pecs and pumping my quads. Plus, I am genuinely concerned that robots are taking over the world.
I'm awesome.
14 comments to "Songs sung by robots!"
#

Jeff

on 12 Jun 2009 at 4:32 am

Blake Lewis does an awesome robot voice on Free Radio

#

jason

on 12 Jun 2009 at 5:18 am

I think it really says alot about the talent of "artists" out there that they all do some sort of digitized vocal thing. Most of them can't sing. That's part of the reason I don't have such an issue with AI because at least those people CAN sing. T-pain, Kanye, Brittany, Cher just to name a few of the robots that have taken over the music industry.

#

Pete

on 12 Jun 2009 at 6:33 am

I think I know what you're talking about. Cher's hit "Do You Believe in Life After Love" or whatever it was called in 1998 featured a synthesized vocal. I can't recall an earlier instance of it than that. At the time, it was a mildly nifty novelty device in a catchy albeit throwaway novelty song. Anyone else who uses it today and thinks they're being clever for it is a dipshit, and wouldn't know any better because they ARE dipshits.

#

Simon

on 12 Jun 2009 at 6:55 am

Yes, computer-enhanced pop music is shit, and yes, you're awesome. Still, allow me to mention one cool song sung by a robot (and by cool, I mean totally sweet): "Still Alive", the ending song in Portal, which is actually meant to be sung by an actual robot. And it kicks ass, especially when you've played the game, which kicks ass as well.

Link to song: http://www.youtube.com/watch?v=Y6ljFaKRTrI

Simon – I don't know that game but I watched the clip. I really liked the old school style of the credits and the song did not make me want to kill myself, which is rare in my world.

#

SanFran

on 12 Jun 2009 at 10:34 am

ROBOTS! HA! (you can not escape from me)

I'm not sure if I can embed a video player into the comments here, but I'll try.. If that doesn't work, check this out:

http://www.hulu.com/watch/2340/saturday-night-live-old-glory

#

Tommy Roche

on 12 Jun 2009 at 10:56 am

It's good to wake up drunk. robots…i eat robotos for breakfast

#

hodan

on 12 Jun 2009 at 1:42 pm

this is why i don't know any new artist that came out from 2006 to now.

#

Paul in St. Paul

on 12 Jun 2009 at 6:32 pm

I prefer my robot singing straight up and old school. Witness Midnight Star's Freak-a-Zoid:
http://www.youtube.com/watch?v=Rx7o94qk5vs
They embrace the robot novelty with golden capes, fright wigs, body glitter, and a troupe of Black quasi-Chippendales dancers. Now that's how to make a robot pop song.

This was a triumph.

#

Newman

on 13 Jun 2009 at 7:34 pm

yes, Pete, we've been calling it, the effect, "The Cher Filter" for a while now

Ok, what about Daft Punk? They are robot who sing like humans…

Listen to "Kid A" but Radiohead.

And when I say but, I mean by.