Jun 24 2009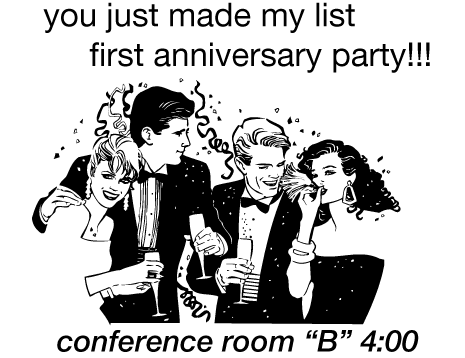 Hey everyone, I just wanted to send out a quick inter-office email to remind you that the big "You Just Made My List" first anniversary party is today in conference room B at 4:00. Don't be late (I'm looking at you Brad! Remember SALES IN ACTION 2008 – you will never live that down!!!!!! LOL!) Julie and Lisa have been working like crazy people (cuckoo cuckoo) to make this party ON THE CHAIN!!! If you thought the Sales on the Beach Summer Bash was fun, then hold on to your Dockers because this party will rock you!!
PARTY ACTIVITIES INCLUDE:
• Wackiest Neck Tie Contest
• Best Themed Cubicle Contest
• A Performance by Steve and Frank's "Rubber-band Band"
• Waste Paper Basket-Ball
• NASCAR, or should I say NAS-CHAIR race (hee hee)
Debbie was nice enough to bake her famous cookies (one each please) and our very own Dan "The Man" will be DJ-ing right from his laptop? I don't know how he figures that stuff out, zoom right over my head!!! LOL!
Running throughout the party will be an awesome (it seriously made me cry, boo hoo) Power Point slide show chronicling our first year! I'm not kidding when I say it's as good as any documentary I have seen on Fox News, and you know I love my Fox News!!!
AND… If ALL that wasn't enough, closing out the evening will be a super entertaining performance from… drumroll… drumroll… Counting Crows? (you wish Stacy! ROFL!!!)… drumroll… RAZZMATAZZ!!!!
So don't be like that guy Ken who got fired last year for missing the Show Me The Money sales picnic! (he was a weirdo anyway)
See you at 4:00 and thanks for a GREAT YEAR!!!!
13 comments to "One year of blogging!"
#

Pete

on 24 Jun 2009 at 6:20 am

It's only been a year? Good. I've been reading for a few months now and thought I'd missed out on decades.

Congrats!

#

deadlytoque

on 24 Jun 2009 at 8:01 am

I'll be there, but expect me to be surly to most of the guests, completely unsympathetic about Jon and Kate's divorce, and drunk before 10pm.

I may also end up banging Stacy in the office kitchen.

Congrats Listy. Here's to many more years.

#

Paul in Saint Paul

on 24 Jun 2009 at 8:22 am

What song will be played on a loop to help bring out the teary nostalgia during the never-ending PowerPoint slideshow? I'll bet Dan could set this up for you in the blink of an eye!

Pete – Thanks.

Deadly – I heard Michael in IT totally felt Stacy's boobs at the Christmas party.

Guilty – NOOOO, not many more years!

Paul – That Green Day song, Good Riddance (Time of Your Life) – OBVIOUSLY!

#

Tommy

on 24 Jun 2009 at 8:46 am

So lister you've fulfilled your civic duty. One year's hard labor at getting laughs….what are you going to do next!?!?!?

#

T-Rav

on 24 Jun 2009 at 10:41 am

Congrats on a great year's worth of rants.I will own EVERYONE in waste paper basketball!

#

Jacob

on 24 Jun 2009 at 11:52 am

I'm there as long as there won't be any children in attendance… I can't be within 50 yards of children…

#

Jeff

on 24 Jun 2009 at 12:25 pm

Please tell me if Razzmatazz is another one of your goof sites otherwise I'm hiring them next time we hang out.

Razzmatazz is as real as it gets. I poured over every word and song on their site. I also watched their youtube clips. Sweet Jesus, people will laugh at ANYTHING!

I look forward to meeting them Jeff!

best post ever.

If you subject us to a Good Riddance slideshow, I'll probably have to stop reading this website. You're better than that, sir.

That said, congrats on one year. Am I allowed to get drunk at this event or would it just end up getting awkward?

#

joe

on 26 Jun 2009 at 6:58 am

wait. who gives a fuck?