Jul 07 2009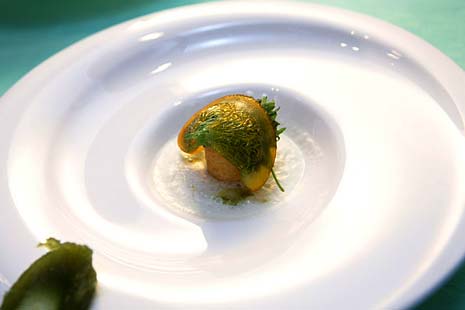 I once ordered an edamame appetizer at one of these pretentious restaurants and when the waitress brought six individual soybeans to our table a single tear fell from my eye, because I realized I just paid $13 for six soybeans. The next time I went to this restaurant I noticed the menu now included "One soybean seasoned with a single tear." Clearly they had stolen this idea from me.
Take your tiny, pretentious dollhouse-sized food and shove it up your oh-so-hip ass. Do you realize some of these places actually sell scented air. AIR! My grandfather did not storm the beach at Normandy so some turd in a $300 T-shirt could eat one grain of sea salt with a side of almond-scented air. And don't even get me started on molecular gastronomy. Don't!
I'm not happy after a meal unless I feel like I might die. I want to feel HEAR my stomach struggling to sort through all the meat and fat I just crammed down my greasy mouth. A meal really isn't worth eating unless you need to shower immediately afterward.
This is what food should look like…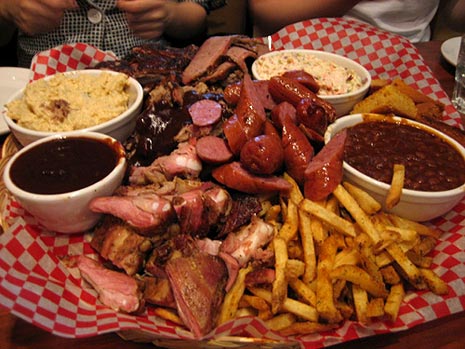 16 comments to "Fussy food and molecular gastronomy!"
#

jason

on 07 Jul 2009 at 6:08 am

The second photo, Famous Dave's? I know the first photo is from "Pretentious".

Molecular gastronomy? What is this shit?

#

Pete

on 07 Jul 2009 at 6:14 am

You're the king!

The four main food groups:
1) caffeine
2) nicotine
3) pizza
4) Rally's

#

Joe

on 07 Jul 2009 at 6:46 am

i like doritos more than i like a lot of other foods but i like chinese food even more LOL!

Jason – Not sure where that photo was taken, but if it's Famous Dave's, I'm getting a job at Famous Dave's!

Molecular gastronomy is making food with science blah blah blah. Boring. Fussy.

#

Joe

on 07 Jul 2009 at 9:14 am

http://rogerebert.suntimes.com/apps/pbcs.dll/article?AID=/19910322/REVIEWS/103220302/1023

Ebert's review of The Secret of the Ooze. ADD HIM TO YOUR LIST I DEMAND IT. It remains the only solution I can see to set it right.

#

Tommy

on 07 Jul 2009 at 10:54 am

looks like we made it!@

#

Xina

on 07 Jul 2009 at 4:38 pm

Listy my dear, I must say that while you may enjoy the fatty, greasy food pictured, you certainly look like you don't eat like that. You lucky bastard. Take me now!!

#

hodan

on 07 Jul 2009 at 5:08 pm

the picture above made me lose my appetite and the one below gave me heartburn.

i would eat that entire picture blindfolded and hand-bound.

I would make sweet love to that plate (the second one) and marry it!

#

Kat

on 08 Jul 2009 at 3:32 pm

That is the Memphis Platter at Memphis Blues in Vancouver, (1465 Broadway West Vancouver, BC V6H 1H6) I know this because my boyfriend loves it more than he loves me.

#

EBoch

on 13 Aug 2009 at 2:08 pm

That pile of food is inspirational.
You have become my new hero for posting that photo.
God bless you and your site.
Oh and Kat, I'm saying this without even knowing or seeing you and with all due respect – and I do mean with all due respect – but if that platter actually looks like that, I would have to side with your boyfriend.

Ebpch – I agree, I am very awesome. I am not surprised you would chose me as your hero.

#

Mike

on 18 Jul 2010 at 3:54 pm

I think the impression that a lot of people has is that fine dining restaurants are "pretentious" and ridiculous. It's really about having a tasting of the finest ingredients and experiencing all the senses while eating food. Texture, temperature, flavor, technique, visual presentation. It's just an edible form of art. I love my homestyle food as well, but I also love the experience of fining dining.

#

LG Chick

on 22 Mar 2011 at 7:19 pm

Get off your high horse, Mike. I'm sure you'll be glued to the TV tomorrow night, when the new show (on the Scify channel, no less) starts starring that assmunch Masrcel from a way back season of Top Chef. I can't believe this jerk is getting his own show about molecular gastronomy! what is this world coming to? Arghhhhhh.

#

yon

on 09 Jul 2012 at 3:58 pm

"Texture, temperature, flavor, technique, visual presentation."

Except you can do all of that with NORMAL food with NORMAL portions at NORMAL prices, too. "Molecular gastronomy" and the like is just another way for rich people to waste money and show off.