Aug 05 2009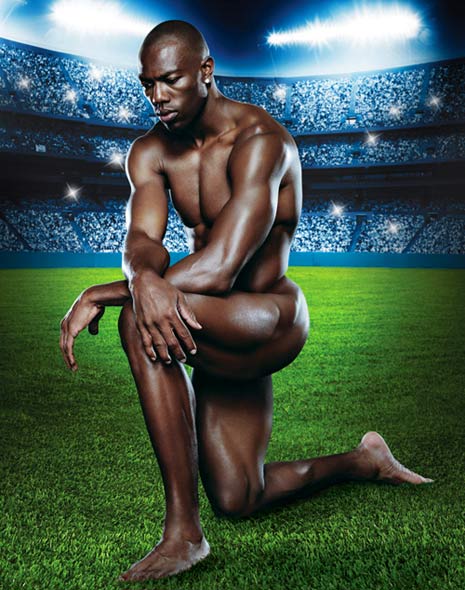 Let me explain why this ad is on my list before you get on your soapbox and call me homophobic. I'm not at all homophobic, but that doesn't mean I'm going to be happy that the only available treadmill at the gym today faced this poster. My treadmill was about 18″ away so I was forced to literally stare head-on at Terrell Owens' chiseled body while I lazily walked along like an old guy at the mall. Hey, I burned off 34 calories during those 5 minutes I'll have you know!
I don't need that kind of pressure at the gym. I specifically joined Bally because it's mostly filled with lazy fat slobs who workout for about 2 weeks before getting bored and retreating back to sucking on the fast food teat. At Bally, I almost look athletic, but not when this shit is staring me down. Is it too much to ask for posters of Dom Deluise or "Rerun" to grace the walls so I can remain delusional about the state of my own body? Why the hell is he even naked in this ad?
Plus, what if coincidentally got a boner while staring at this poster. I have yet to get a boner at the gym, but what if I popped one of those "just woke up from a nap" boners while on the treadmill facing a naked T.O.? What if I accidentally started to masturbate after I accidentally got a boner? I'm not saying it's likely, but WHAT IF?!?
Fuck it, I'm not going back to the gym until his show is canceled.
9 comments to "This naked ad for The T.O. Show!"