Aug 19 2009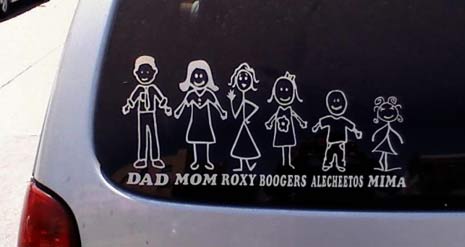 Thanks for giving me the names of all your kids, it will be much easier to kidnap "Boogers" from the playground with that info.
These stupid bumper stickers have been mentioned in comments before on this site, but it's time they got their due. They have more than earned their place on my list. I don't give a shit about your stupid anorexic family, I just want to drive behind your slow-moving minivan in peace. I don't need to know the intimate details of your life. I don't need the pressure of trying to figure out everyone's hobbies from the rudimentary cave drawings you have provided. Perhaps you could also display your tax returns for the last 3 years, your resume and the kids' grades? Tell me, who is Booger's favorite Jonas Brother?
The thing that really bothers me about this crap is everyone's willingness to be the same. I hate fads. I guarantee these turds have a box of "valuable" Beanie Babies collecting dust in their basement and a full assortment of Crocs waiting by the door. It's ironic that these decals end up making every family look exactly the same.
I hate it when other people are happy.
18 comments to "Stick figure family decals!"
#

Yubbers

on 19 Aug 2009 at 5:52 am

The last sentence was remarkably sad and telling. I enjoyed this.

Yubbers – Where have you been? Why do you hate me? Is it because I hate everyone and everything?

#

SanFran

on 19 Aug 2009 at 11:46 am

I chuckle, in that forlorn weeping-for-america kinda way, whenever I see these dumb-ass displays. It's the same mentality, albeit from the other side of the tracks, that causes one to past the Calvin-pissing sticker… and testicles hanging from the trailer hitch… and my honor roll student… and and and… agggghhhhh…

and then, I run them off the road, and chuckle, in a gleeful schoolgirl screeching-with-delight kinda way, as the burning wreckage of the minivan or SUV fades in my rearview mirror…

or something like that.

#

T.J.

on 19 Aug 2009 at 1:34 pm

I hate bumper stickers in general.Why desecrate your car like that?A car isn't a billboard,for a lot of us these days,it's an investment.

#

Munchies

on 19 Aug 2009 at 6:49 pm

You are my hero.

#

Yubbers

on 20 Aug 2009 at 3:52 am

Do I hate you? Don't make me quote The Plain White T's.

I haven't been around since my tea grew cold.

#

Jonathan

on 27 Aug 2009 at 12:47 pm

Don't forget about those stupid oval stickers with three letters in the oval! Who gives a fuck if you've been to Montauk or Myrtle Beach?

My boyfriend and I laughed when the 'Trinity' killer on Dexter cleverly used one these obnoxious family decals as a tool to kidnap one of his victims.

Dru – I have never seen Dexter, but I thought about that one day while driving behind a mini van with all the kids names on the back. Maybe I secretly want to be a serial killer.

#

Trista

on 21 May 2010 at 1:22 am

I'm still searching for the stick figures of the bicycle rider & the wheelchair etc. that have the hash-marks next to them for keeping score. Any ideas?

Trista – I think you have a million dollar idea there.

#

Amy Louise

on 14 Jun 2010 at 9:59 am

Booger only has one foot- she won't even be able to run.

Amy – Poor Boogers.

#

Inbound Skier

on 20 Jun 2010 at 10:39 am

Yes,we hate them so much, we make family decals,including dysfunctional,or just upload you own!

#

icky

on 04 Jan 2011 at 8:46 am

I despise these dumb decals. I was surprised to find out I am not alone! The ones with the names are even dumber. I would like to see these stickers with dysfunctional families that would be fun but even more distracting to other drivers. However, I love the Truck Nuts hanging on trailer hitches, especially the blueballs! 😀

#

icky

on 04 Jan 2011 at 8:48 am

If I were to get these it would be just me and about 50 cats, just to mess with people (I have 4 kids, a dog, two cats, and two bettas)

#

MJ

on 02 Mar 2011 at 10:27 pm

Thank you! These decals fill me with rage.

#

Cnay

on 15 Mar 2012 at 9:03 am

Oh, I love you all! Let's all meet up for coffee! 50 cats indeed! I am wear of the 26.2, 13.1 etc…..maybe a 3.1 with a slash thru it?