Aug 14 2008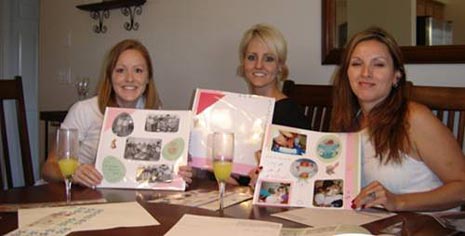 I know, I'm an an asshole. Why should I care if people find happiness from stupid shit like scrapbooking? I don't have an answer for you but I thank you for asking. I'm just that way, OK? I'm a dick and I fucking hate all things scrapbooking so deal with it!
Listen up scrapbookers, let's leave creative endeavors to creative people. Put your hot glue gun and glitter away and go back to watching Wheel of Fortune or the Home Shopping Network. BUT, if you do watch the Home Shopping Network, don't even think about ordering more scrapbooking crap.
I KNOW, I shouldn't care that women gather for scrapbooking parties and share squiggly cut paper ribbons and little wooden pumpkins with each other while getting totally tipsy on white wine and mimosas. Should I care that at the average scrapbooking party the word "cute" is used approximately a billion times? Who gives a shit if they sit around and glue photos of their fat families dressed in matching golf shirts to paper covered in teddy bears?
Oh, but I do care. I care so much. OH MY GOD I CARE SO MUCH I CAN BARELY SLEEP AT NIGHT!
13 comments to "Scrapbooking!"
I'm officially inviting you to one of my fantastic scrap booking bonanzas! The scrap booking mobile will pull up in front of my house and you'll have access to unlimited scrap booking supplies.

Don't forget to bring all your precious photos… I'll show you how to create a magical pink castle that pops up when you open the book.

We'll bond!

"Creature of Habit" and ESPECIALLY, "you a douce" are invited also!

I refuse to go unless the scrapbookers are strippers scrapbooking about their lives on the pole.

#

Jacqueline Schimmel

on 15 Aug 2008 at 9:59 pm

Oh, you think YOU hate scrapbooking? Well, just Google my name to see why I hate scrapbooking.

Oh, that really sucks. But I have to admit, her article on Organizing Your Scrapbooking Space was pretty fascinating.

Seriously, you need to read this article. She's has some really radical tips like putting items in containers and THEN putting those containers on shelves!

#

Amber

on 01 Aug 2009 at 3:32 pm

Ditto! Can't STAND hobbies based on wasting paper products either no one ever mentions that! And don't real artists CREATE things not COPY? What a waste of time for a product that is useless and worthless….Just don't GET IT!! PS: Anyone know where I can buy some sort of anti-scrapbooking t-shirt? Wonder how much paper would be saved if all the Stepford Wives took the day off?

hi there, hater!

I googled "I hate scrapbooking' to see if I'm alone and lonely in the whole Universe to hate this brainless time-killer, and – *phew!!* – I found you! Being hater and ranter myself, I shall not thank you for your rant – I hate you for having written it before me, dammit, ggrrr…

Scrapbooking – invented by pathetic and desperate housewives to kill the time after having done all the housework, waiting for their husbands to come home…
Meanwhile, the husbands in question are fornicating with their secretary/colleague/whoever…. (Do there exist scrapbooks for this too, I wonder…..)

Much hating hugs!

Tchovs – And a hate-filled high five to you!

#

JANAE FREYTAG

on 05 Dec 2010 at 3:17 am

The scrapbookers I know were already living like pigs! Now they are creative! PLEASE DON'T GIFT ME WITH MORE OF THIS TRASH YOU DON'T KNOW WHAT TO DO WITH! BUY YOURSELF A PUSH BROOM AND LEAF BLOWER AND FIND ANOTHER HOUSEKEEPER! I QUIT! ONE MORE OK MAKE THAT SEVERAL TIPS ,THIS IS CUT AND PASTE YOU ARE 51 NOT 5. IS GETTING FIRED FROM YOUR SUPER HIGH PAYING JOB FOR YOUR NEW SCRAPBOOKING BUSINESS GOING TO PAY OFF?NOT UNLESS WE ALL BECOME PIGGY SNOUTS!

THE SCRAPBOOKERS I KNOW ARE ALREADY LIVING LIKE PIGS!PLEASE DON'T GIFT ME WITH THIS CRAP YOU DON'T KNOW WHAT TO DO WITH! BUY YOURSELF A PUSH BROOM AND LEAF BLOWER FOR THE INSIDE OF YOUR ENTIRE PEN!FIND ANOTHER HOUSEKEEPER I GUIT! OH WAIT ,YOUR BEING FIRED FROM YOUR HIGH PAYING JOB'AND YOUR BROKE BECAUSE OF YOUR NEW PIGGY SNOUTS CRAPBOOKING BUSINESS GOOD LUCK! IT'S CUT AND PASTE AND YOUR 51 NOT 5 MAYBE EVERYONE WILL BECOME A CREATIVE DESIGNER FOR PIGGY SNOUTS!

#

Anna

on 27 Jun 2011 at 9:17 pm

OLD POST, BUT STILL.

"I know, I'm an an asshole. Why should I care if people find happiness from stupid shit like scrapbooking?"

My thoughts exactly – yeah yeah, they can do what they want, whatever. But it's just how f***ing butthurt they get (this goes for rubber stampers too) if you dare to suggest that what they're doing ISN'T ACTUALLY ART. 'OMG you are so MEAN and NEGATIVE.'

Or they start spouting pseudo-intellectual crap like 'you can't define art anyway, so art is whatever anyone says it is' but f*** this, this is an insult to me and everyone else who's actually worked hard at learning to draw, who puts effort into at least TRYING to be original. Colouring in someone's pictures and arranging them all pretty like on scraps of wrapping paper is an acceptable form of plagiarism. Grown ups with colouring books, it's all they are. AND IT ALL LOOKS EXACTLY THE SAME

The crappiest drawing from someone's imagination has a thousand times more claim to being art than the best colouring job over someone else's cutesy rubber stamp.

#

ballstoyou

on 29 Oct 2011 at 4:50 pm

gay

#

Monica

on 06 Oct 2012 at 11:53 am

One of the worst things about it is when people vacation in beautiful places, take great photographs and destroy then with cutouts of stupid hearts and crappy letters.

#

Natalia

on 03 Dec 2013 at 7:28 am

I couldn't believe when i saw it for the first time. Women scrapbooking. I thought it was some kind of classes for children. But there was no children. There were 30′ and 40′ y.o. women, acting like 5 or 6 y.o. kids.