Oct 07 2009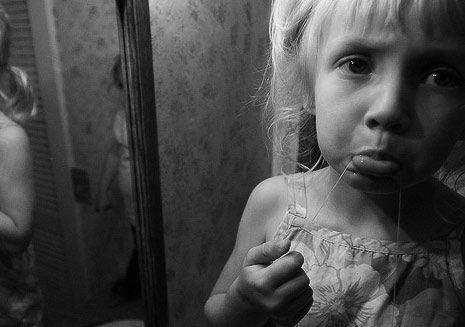 Barf.
I hate anything that has to do with shins, eyeballs or gums. Gums are profoundly disgusting to me. I take good care of my teeth and brush several times a day but I would rather get a salsa colonic than floss. I recently started flossing every night, rather than once a week, and it's ruining my life. Every time that tiny string shoots through my teeth and slams into that little gum flap I practically faint.
Can't they invent a laser or something that will do my flossing for me in the blink of an eye while I flex my muscles in the mirror. Oh yeah, I should mention that I always floss in the nude. There I set you up for some jokes, let's see what ya got!
5 comments to "Flossing!"
#

Yours Truly

on 07 Oct 2009 at 5:59 am

I always flex in front of the mirror in the nude. But the other gym members complained, so I'm not allowed to do that anymore.

fanny floss:
http://nerdapproved.com/misc-gadgets/fanny-floss-proctologist-recommended/

I hate the bits of gunk that flick on to the mirror.

SanFran – Shit, I meant to wrote about that. I guess that's what happens when you quickly write a post on your laptop in bed at 2am. I don't deserve readers.

#

Sherrie

on 19 Oct 2009 at 8:54 am

Try the woven floss – it's not that wax crap, it's more like cloth almost. Much softer and doesn't slice into your gums, but it does not fix the gunk on the mirror issue.