Oct 21 2009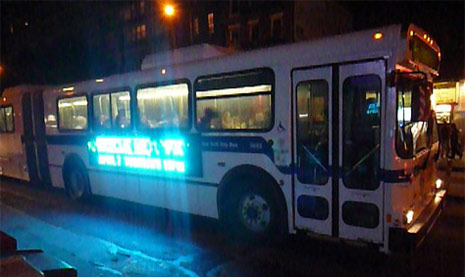 I'm not sure how many other cities have these electronic bus ads so this post might be meaningless to most people. Here goes anyway…
I was parked at a red light tonight, minding my own business, trying to decide if I should pop in my Nickelback or my Creed CD into the stereo, when all of a sudden my car filled with blue light. I thought a UFO had landed next to me so I figured I might as well pull down my pants and bend over for the inevitable probing. So there I was on a busy Chicago street bent over with my pants around my ankles, waiting for a little gray man to stick his E.T. finger up my butt. Well, turns out I really had egg on my face when I realized it was just an obnoxiously bright LED ad on the side of a CTA bus that pulled up next to me. I really felt like a first class stinker head!
These ads are fucking dangerous! I was literally blinded by a tampon ad when I casually looked out my car window. Do you know how pissed I would be if the last thing I saw on this earth was a 4 foot glowing tampon?
Oh, in case you were wondering, I decided to put both the Nickelback CD AND the Creed CD in at the same time. I had to eject them after only a few seconds though because blood and feces began to shoot out of the speakers.
9 comments to "Digital bus ads!"