Oct 23 2009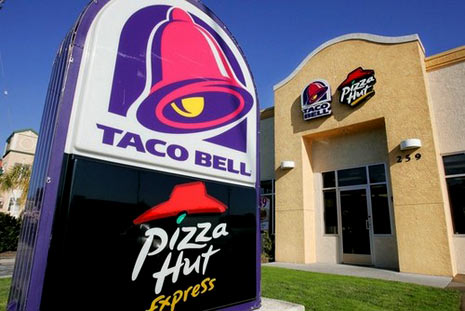 Well, I guess it's time to write about these crimes against humanity because there is a song sweeping the nation all about them. Who am I kidding? I'm using the fact that there is this stupid song as an excuse to put very little effort into this. LEAVE ME ALONE, I'M BUSY!
The truth is that I really do hate these fast food combo restaurants. How can I possibly decide between Taco Bell diarrhea or E. Coli from the Pizza Hut salad bar? I won't choose so don't ask!
Now, let's talk about this Pizza Hut and Taco Bell song by Das Racist. I know nothing about this duo, but they scream New York ironic hipster to me. You know what really makes me mad about this song? I fucking LIKE it! I deserve to have my ears removed for tolerating this shit.
Sorry this post sucked. I hate myself.
14 comments to "Combination fast food restaurants!"