Oct 26 2009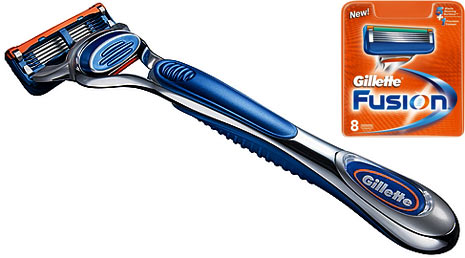 How many blades do we need? This is outrageous! Outrageously AWESOME!
Yeah, I was once an idiot like you. I would sit around all day saying "Five blades is too many, what is with this crazy nonsense?" I would mock razor commercials touting their 2 blades, then their 3 blades, next 4 blades! "When will this end?" I thought to myself. I am here to tell you it should never end!
A few years ago a free Gillette Fusion razor showed up in my mail like an unwanted, screaming baby left on a church doorstep. I wanted to punch it in its face. That cocky son of a bitch thought it was so fucking cool with its five blades. It remained untouched until one day when I realized I was out of razors. I reluctantly opened the package and placed the ridiculously large collection of blades to my handsome face. Listen to me when I tell you that a unicorn flew out of my butt as I pulled the razor across my skin for the first time.
You think five blades is enough? Guess again dick head, the Fusion has a sixth blade hiding on the backside for all your hard to get areas. You can even shave inside your god damn nose with that sixth blade!
I want to make sure you understand that I am not being hilarious and sarcastic, I really DO love this razor! Five blades really DO make a huge difference. I bet seven blades would be even more awesome. Why stop there, give me ten or twelve blades! Make a glove covered in 100 razors and I will use it.
Stop being a sissy a get a 5 blade razor already.
24 comments to "5 blade shaving razors!"