Oct 27 2009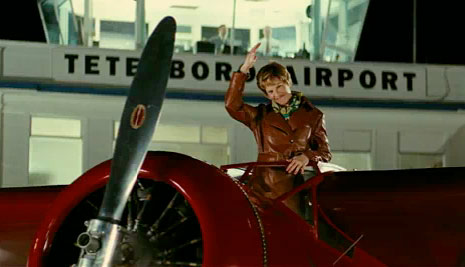 I heard that the original title of the new Amelia Earhart biopic starring Hilary Swank and her teeth was "Amelia Earhart: Jus' Wavin'." Judging from the trailer, this would have been an appropriate title.
I count at least 12 people waving in this trailer, not including the double wave by Swank at 1:35! Considering this represents less than 2 minutes of the film, I am conservatively estimating that the movie itself contains approximately 8,437 waves. This estimate does not include scenes of waving crowds. With crowd waving included, I would increase that figure to about 3.5 million waving hands.
Don't get me wrong, I love to watch people wave almost as much as I enjoy waving myself. In high school I was Vice President of the Waving Club and after college I thought briefly about turning pro. Sadly, an unfortunate incident with a ceiling fan put an end to my waving career. Sure, I still do a little waving on the weekends when the weather is nice but it's nothing like when I was at my peak.
Maybe Amelia Earhart should have spent a little less time waving and a little more time not crashing into the ocean.
16 comments to "The amount of hand waving in the "Amelia" trailer!"
#

Pete

on 27 Oct 2009 at 7:29 am

I'm glad this was beaten at the box office this weekend by two horror movies.

#

Joe

on 27 Oct 2009 at 7:32 am

swank is ugly as fuck

#

jason

on 27 Oct 2009 at 11:07 am

i think hillary swank is beautiful. the short hair doenst do her justice. i would invest 90 minutes to watch this if it were on cable, or if some chick had the DVD. its looks at least worthy of that.

#

hodan

on 27 Oct 2009 at 11:47 am

Hilary Swank is talented. when you're talented your looks go out the window. she looks nothing like Amelia though,Amelia was femme and pretty hot for her age.

Hodan – I actually think she kind of looks like her. I mean in the movie, once she is all made up to look like her.

The real Amelia was a bad ass for sure! TOTAL MILF!

#

Joe

on 27 Oct 2009 at 12:05 pm

you like her, yet dont like polanski. your brain is fucked man.

Joe – Good point. I forgot about the 2 year raping spree Amelia Earhart went on. I wonder if it's included in the movie?

One of my ex-girlfriends' grandfathers was one of Amelia's mechanics… Pretty cool to hear stories… Different times, they were, for sure.

Why am I posting here from Kauai? Does this make me an addict?

Shit.

SanFran – You are in Hawaii? You cocksucker motherfucker! You just made my list!

#

Tommy

on 27 Oct 2009 at 6:14 pm

I'm in Saudi Arabia…all the crude oil you can drink. DRINK SON!

#

Paul in Saint Paul

on 27 Oct 2009 at 7:33 pm

The Office turned Hilary's Swank's questionable hotness into an entire b-story. This clip only hints at the extent of the debate in the show:
http://www.hulu.com/watch/54723/the-office-hilary-swank

#

Anne

on 28 Oct 2009 at 7:09 am

This is possibly one of your funniest posts ever!

P.S. Fuck you San Fran. It's not enough that you live in SF, I have to read about you being in Hawaii while I sit in my office watching the rain in Ohio?? Go fuck yourself! You're on my list too!

#

themightyZeus

on 28 Oct 2009 at 7:42 pm

"Maybe Amelia Earhart should have spent a little less time waving and a little more time not crashing into the ocean."

Possibly one of the funniest things I have ever heard in my life!

San Fran just made my list too…. he's in Kauai AND he has an internet connection. Asshole.

#

Pete

on 30 Oct 2009 at 9:05 am

Amy Adams plays Amelia in Night at the Museum II. She wears these really tight flight pants. Her ass becomes a highlight of the movie. I couldn't take my eyes off it.

Here you go Pete http://tinyurl.com/ylbqmd6