Oct 28 2009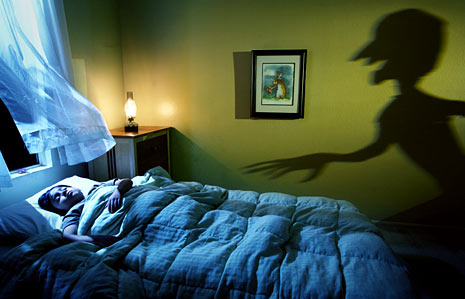 What do you do if your child is afraid to go to the doctor for a flu shot? Obviously your only option is to allow a doctor to sneak into their room while they sleep and stab them with a needle. Sure, they will never know the joy of a good night's sleep ever again after you make their nightmares a reality, and they will most likely attempt to bury the dark memory of waking to a strange doctor in their bedroom jabbing them with a needle by getting deep into medical fetish sex as an adult, but hey… NO FLU!
This actually exists! On Earth! For less than $100 you can betray the trust of your sleeping child in his or her own bed. You think your kid was scared of the dark before? Just wait until he wakes up to find a creepy old man hunched over him with a hypodermic needle. You will be cleaning poop out of those Elmo jammies for months.
Why stop with flu shots? Hire the Shamwow guy to sneak in at night and yell math equations in your kid's face. Maybe little Timmy will be quarterback one day if you start chucking footballs at him while he sleeps.
Middle of the night flu shot by The Shot Fairy… $80.
Turning your child in to a serial killer at age 5… Priceless.
13 comments to "The Shot Fairy!"