Nov 23 2009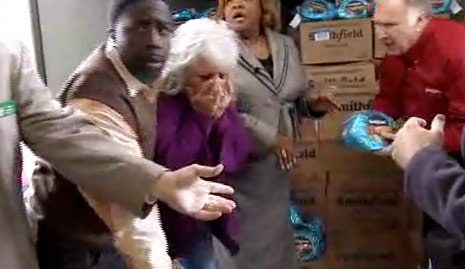 Dreams DO come true! Paula Deen is used to large amounts of food flying towards her face, but this time the food won the battle. Sit back and enjoy Paula Deen getting hit in the face with a ham.
15 comments to "BREAKING NEWS: Paula Deen eats a ham! Sort of."
#

8bithero

on 23 Nov 2009 at 1:53 pm

That black dude looked like somebody was raping the baby Jesus on the steps to the Vatican on Easter Sunday.

It's just a fat redneck, black dude. Settle down.

Well, it's because celebrities are more important than normal, shitty people.

#

caleb

on 23 Nov 2009 at 2:26 pm

i don't know what the fuss is about, Paula Deen is always going on and on about how much she loves getting her lips 'round some good ol' hog.

SUCCESS!!

#

kelsey

on 23 Nov 2009 at 4:29 pm

best video i've ever seen.
i cannot stand paula deen.
and isn't that her husband or whatever, in the very last second who continues handing hams down the line like his wife didn't just get hit in the face by a HAM?!!!
HAHAHAH!!!!!!!!!!

#

kelsey

on 23 Nov 2009 at 4:29 pm

and since this video doesnt work….here

Kelsey – Thanks for the new link 🙂

#

jason

on 23 Nov 2009 at 8:23 pm

who actually THROWS a ham? what weirdness.

#

Jacob

on 23 Nov 2009 at 10:18 pm

I'm gonna go make a sandwich

#

hodan

on 23 Nov 2009 at 10:31 pm

this would've been a lot funnier if it was Rachael Ray and that ham was the kitchen sink.

Her husband's face at the end is hilarious. He doesn't look too angry or even concerned that someone just nailed his wife in the face with a ham.

Also, I went to twitter (sorry Listy) to see if she posted about it and somehow wound up finding someone that twittered about getting Guy Fieri's signature tattooed on his leg. I really thought you should know.

Amanda – I have no choice but to kill myself now. I don't want to live in a world with a guy who has a Guy Fieri tattoo.

#

eddkatz

on 23 Apr 2010 at 3:38 pm

PD's husband looks like an adult with Fetal Alcohol Syndrome.

It's a long time between the registering of what he sees to the actual moment his face catches up and reacts.

God is really mean.

Or, God is really hilarious.