Dec 04 2009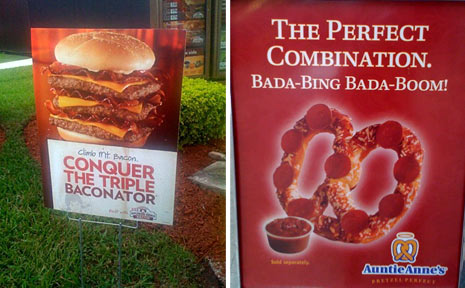 Much like the Terminator, you can be sure that after you eat Wendy's "Baconator" it too will be back.
Do I really need to "conquer" my food? Ted Nugent and Sarah Palin may love to bring their food to its knees, but I just need something that will go down and come out the other end without trying to kill me in the process. Don't get me wrong, I hate fussy food, but I also don't need a fucking pizza on top of my pretzel. How in the hell am I supposed to walk around the mall and impress 18-year-old girls (or their moms) when I'm trying to balance a pizza on top of my God damn pretzel? I'm already carrying 4 bags from Hot Topic!
A Triple Baconator clocks in at:
1330 calories
86 grams of fat
780 calories coming from fat.
Let me put that into perspective for your fat ass… a Big Mac has 540 calories with 29 grams of fat and 260 calories from fat. In other words, a Triple Baconator is like eating 2.5 Big Macs. The recommended caloric intake for a 25 year old male who is 6 feet / 175 lbs is about 2500-2900 depending on how active they are. So let's add medium fries and a large Coke to your Wendy's order, please drive to the first window. Congratulations you just consumed 2020 calories and 106 grams of fat in ONE MEAL! I'm sweating just from the thought of it.
Your body literally does need to conquer that son-of-a-bitch!
If you can't live without your precious Baconator, you might as well class it up a bit.
21 comments to "The insane food Americans eat!"