Dec 14 2009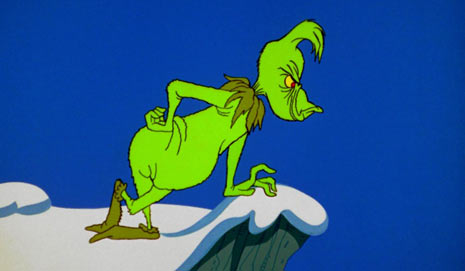 Sorry, no real post today. I spent the weekend trying to get ready for Christmas (and an impending move), so I'm using the remainder of my free time to pray for death. Here's a little Christmas tip, never go to Target. In fact, never go anywhere. Never leave your house.
Does anyone still enjoy Christmas? Discuss.
14 comments to "Everything, mostly Christmas!"
#

Iron Fists

on 14 Dec 2009 at 4:24 am

The short answer is no! Christmas means presents and presents means shopping! Anything larger than a dvd cant go through your letter box so you have to endure the hordes for people and boy, do I hate people!.. ergo christmas sucks because other people really grind my geers. Also, for the record, my aunt buys me shitty gifts and my mum turns into a nervous wreck and spends all day talking with a voice that one usually puts on when addressing a 4 month old… strange lady

Yes and No. My wife is the youngest of seven kids and I'm the oldest of two, so we had decidedly different X-Mas experiences. Her family did 'Secret Santa' whereas mine involved buying (and receiving) gifts for everyone in my smaller family. When we got married, we couldn't really follow my model and I hated her's, so it kind of ruined Christmas for me. I eventually calmed down and we made a compromise that worked. Now we have a young daughter, so it's given us a chance to see it through her eyes, which is how it should be.

As for Christmas traditions, some I love, some I loathe but one that happened by accident and has now become a staple is singing along The Pogue's "Fairytale of New York" at the top of our lungs when we reach the exit for my in-laws house. The song is just long enough to get us to the driveway.

The Grinch is sporting a moose knuckle.

#

Iron Fists

on 14 Dec 2009 at 8:03 am

is that the same as a camel toe?

#

Xina

on 14 Dec 2009 at 9:06 am

I just set up my tree last night. It's 3 feet tall, white and made out of feathers. Yeah, I fucking love Xmas. Plus, I'm the best gift giver in the history of the world so I always delight in giving people amazing things that they didn't even know they couldn't live without until about 30 seconds after tearing off the poorly wrapped paper. While I may give great gifts I never learned to wrap so everything looks like a slow 6 year old did the papering. Ah well, give and take I guess.

I think a moose knuckle is the opposite of a camel toe… camel toe for boys, if you will. Am I right?

As I understand it, Moose Knuckle is a more extreme version of Camel Toe.

#

Sara

on 14 Dec 2009 at 10:09 am

Its not so bad now that I've drifted away from all my fairweather friends and don't have to buy $150 in bath and body shit. When did it become customary to give chicks soap for christmas? I've actualy been regifted a plumeria scent I regifted to one of my friends, body wash is the new fruite cake.

Christmas with my 3 year old is awesome! He loves the lights and songs. Presents are easy because we don't have TV so NO COMERCIALS!! My husband is an adament Santa non believer which is fine. Gage just thinks that Santa is like Christmas' mascot, but WE'RE the ones with the presents and WE'RE the ones watching if your goor bad. So stop chasing the dog with that tonka truck!

I recently learned (over the weekend) that a moose knuckle was the 'male equivalent' of the female 'camel toe'. I know this because I was wearing sweatpants and was called out over my 'cervadaecious joint'.

My dad died suddenly at Christmas some 16 years ago, and from that point on, my Mom and I would spend the day traveling somewhere, usually my sister's house in Florida and later, Maryland.

I quickly embraced that Christmas had nothing to do with shopping. This is the first year since then I have spent the holiday at home, people are coming to visit my wife and I – this is the first time I've had a tree in my own home in 16 years.

If you have your health and people to spend the day with, you've got yourself a wonderful day.

My wife and I's gift to one another is typically travel. Simple, fun, and a fine way to make memories. I have found that making something, be it song, photography, or a meal, is usually more than enough of a gift. Even my young nephews have embraced their weird uncle's policy of no physical gifts… Donate money on someone's behalf if you must…

So, Listy – don't ask for death – you just might get it, and fuck up Christmas for everyone you know.

Start a new tradition of non-material bought things… it feels good.

SanFran – I actually like Christmas day, but everything leading up to it is so stressful. Also, My family has skipped giving gifts and donated to charity in the past, It's my preference actually. Except for the year I wanted Xbox, the poor got fucked that year! Sorry about your dad, that's intense.

#

jason

on 16 Dec 2009 at 9:00 pm

i am just confused about christmas shopping. i mean, dont we in North America have so much shit to begin with, that we need ANYTHING more?

it makes no sense to me. kids ride in the luxury of spacious, A/V equipped, minivans. they have cable television. they have the internet – who needs anything more with boobs on demand? so what is so special about receiving anything as a gift one day a year?

im not as clever with verbalizing my thoughts as the rest of ya, but i may have gotten my point across.

#

Tony Jaguar

on 19 Dec 2009 at 2:50 am

I do because there is certain booze that is only tasty this time of year.

#

Amy

on 14 Dec 2013 at 12:44 pm

How could you hate Christmas?