Jan 11 2010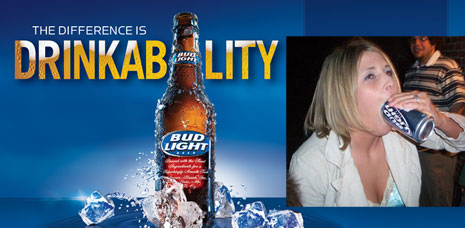 Congratulations Bud Light, you made a beverage that technically is drinkable. (slow clap)
Let's not waste any time debating whether or not Bud Light is, in fact, drinkable. Clearly it is not. It's one small step above poison and one giant leap below walrus diarrhea. Instead, I would like to discuss the saddest tag line in the history of advertising.
Bud Light is essentially saying to you "Hey, at least you can drink it without dying." Let me ask you this tough guy, would you feel confident eating at a restaurant who proudly boasted "Jimbo's Pizza, it's edible." How about "Potato Town, our food can safely be crammed down your throat." Perhaps you would buy a car from Ford if they proclaimed "Basically it pretty much drives."
The real question is, what the fuck are you doing drinking Bud Light in the first place? Why bother drinking at that point? I'm embarrassed for you, broski.
12 comments to "Bud Light drinkabilty!"
#

icecycle66

on 12 Jan 2010 at 7:30 am

I have yet to read the words you wrote as I cannot look away from the subset picture.

You know what they say: an advertisement will always try to convince you of the merits of the worst aspect of the product. If someone tries to sell you something "long-lasting", they are basically telling you it will break within the week.

#

Amanda

on 12 Jan 2010 at 1:05 pm

It's akin to the Rally's/Checkers slogan "Ya gotta eat."

Bud, in all its incarnations, is urine. URINE I SAY!

Do you drink urine? I didn't think s…… Oh, what? You do?

What are you doing later?

#

Yours Truly

on 12 Jan 2010 at 4:32 pm

SanFran:

I've heard that in survival situations, a person could drink their own urine to stay hydrated. I tried to verify this by typing "people drinking urine" into a search engine.

All I got was images of people drinking Bud Light.

Well, the one thing Urine has going for it that Bud doesn't, is that Urine is at the very least, sterile.

So, there's that.

#

random

on 13 Jan 2010 at 1:31 pm

Honest-to-God, my school district's slogan is "Where student learning is the goal."

I heard they spent $150,000 coming up with that.

Random – Wow, that's some slogan. So forceful and powerful!

Walrus diarrhea – great name for a band.

Remember the movie "Crazy People"? An ad executive gets patients from a mental hospital to write ad copy?

I'm thinking the Bud Light people should have taken a few tips from this movie – at least then the slogan would at least be funny!

There's a bunch of ads (for real products, too) in the movie but my favorite:

Metamucil: We help you go to the toilet so you won't get cancer and die.

Julie – Funny. I sort of remember that movie. Did it include "Volvo, boxy but good?"

YJMML – yep, you have a good memory. There was also a Jaguar ad that said "for the man who wants to get hand jobs".