Jan 13 2010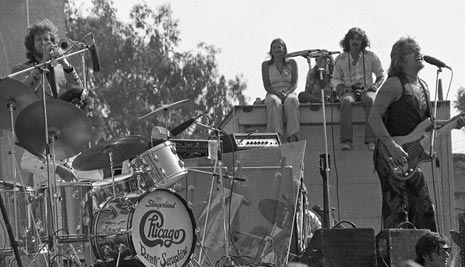 Fuck!
I sat down today to write about how I am always tricked by the intro to songs by the band Chicago. What I mean is that a song by Chicago will come on the radio and I will think "Oh this must be that one song by Chicago that I like" but then after the intro it will start sucking and I reach for the dial. At least that's what I thought, until tonight.
I've been combing through Youtube clips trying to find songs to support this important theory but I keep finding songs that are good all the way through. I thought I nailed it with "Feeling Stronger Everyday" but realized I kind of like the whole song.
This might not seem important to you, but it has really shaken me to my core. I have spent the last few decades HATING the band Chicago and now, in the blink of an eye, I like them. Imagine if you were molested by your uncle and then 20 years later you suddenly thought, "You know what, that was fun." That's how I feel right now.
Now let's not get crazy though, I'm only talking about 70s Chicago. 80s Chicago is horrendous. In fact, shove this piece of shit in your head holes. Take special note of two things while watching this. First notice the douche in the beginning of the clip who is way overly excited when he realizes what song they are starting to play. He turns to his big-breasted date and yells "YEAH" with enthusiasm that most men save for touchdowns and killer putts. Not to mention the fact that he's wearing some bullshit, tucked-in, corporate logo shirt AND a giant class ring. Shit, I should have just written the whole post about this turd. The second thing to look for is the woman in the audience at the 0:37 mark who hears what song it is and promptly decides to get the fuck out of Dodge. I like that the song inspires her to go take a dump while over in the 4th row that other guy is crying tears of joy all over his girlfriend's cleavage and single red rose.
Oh my God, this clip is PAINFUL! Are any original band members even in this clip?
What the hell was this post even about? I need more beers.
24 comments to "The fact that I just realized I like the band Chicago!"
#

Jeff

on 13 Jan 2010 at 5:23 am

Not sure how you ever thought 25 or 6 to 4 sucked. It's a perennial guilty pleasure.

#

Pete

on 13 Jan 2010 at 7:30 am

You are not alone, my king. Chicago are (or were) a great rock band. Sure, the business kinda choked them into writing hit ballads in the 80s, and they gave in to it, turning Diane Warren-penned tunes into radio fodder. But at their core, back in the day, they were great. They're still a terrific live act. Check out "Manipulation" on XIV. The guitarist (replacing Terry Kath) is actually shredding. Mind you, it was only 1980.

#

Pete

on 13 Jan 2010 at 7:34 am

As far as original members, Robert Lamm, Jim Pankow, Walt Paradzier and Lee Loughnane are still there. In other words, the entire horn section has remained intact for 40 years, plus Lamm on keys.
All the other dudes are replacements. To be fair, however, Jason Scheff has been around since 1986 (replacing Peter Cetera on bass). Tris Imboden (drums) and Keith Howland (guitar) have been on since the mid 90s. Bill Champlin (piano, vocals) was with the group since like 1982 but left last year.

#

caleb

on 13 Jan 2010 at 8:23 am

as far as extremely underappreciated 70's bands go, Chicago is definitely a good choice. but for my money nobody can beat Steely Dan.

If you've only given them a cursory listen over the years, you should DEFINITELY check the out.

#

rachel

on 13 Jan 2010 at 8:43 am

pete doth knowest too much about CHICAGO.

70's Chicago rocks! Many fond memories of the jukebox at this dump of a billiard bar in Burlington Vermont rocking out to them (and Caleb: Steely Dan, too).

Sorry you were molested by your uncle, Listy.

I can picture you now, retelling the stories to your friends in fifth grade: "So, I sat on his lap, and he asked me who my daddy was… and I kept telling him, but he just kept asking… over and over again…"

Listy, you miss your Rhodes, hence your love of "Getting Stronger Everyday". Jeff's right, "25 or 6 to 4" is the jam, as is "Old Days' and "Saturday in the Park". That horn section is amazing.

I'm pouring a 40 all over my carpet right now for my Rhodes. I always secretly loved "Saturday in the Park" but could only be seen rocking out to it in private.

It's going to take me a few more decades to start loving Steely Dan though.

Embrace the Dan, Listy. Start with Aja, it's absolute perfection. You can't NOT love this record.

#

Joey

on 13 Jan 2010 at 11:11 am

Listy – now you have something in common with Jake from The Bachelor…

http://www.youtube.com/watch?v=98Fm0y7iiS4

Yeah, I watch The Bachelor. Fuck you.

#

Sara

on 13 Jan 2010 at 11:26 am

I play the trombone and my kid loves when I play 25 or 6 to 4. A personal favorite….actualy probably the only Chicago song I like

Listy! I came here today to warn you. Now maybe you are already aware but I dont get cable so I just saw this chic on a local morning talk show and I'm scared. She was all in my face and "extreme".
She's like a female Guy Fieri! What if they breed?!?!

http://www.foodnetwork.com/shows/biography-anne-burrell/index.html

Sara – I love that you give private trombone concerts for your kid!

Great, now there's a female version of Guy Fieri?!? I have only seen commercials for this female douchebag so I just looked her up on youtube. I'm killing myself.

Damn you Listy! Now I'm listening to my wife's Chicago Boxed Set. Damn you dirty ape!

What's next? Billy Joel? I will preemptively say that Glass Houses is was and still is a great record.

Joey – Big deal, I once hired NWA to play a private concert for me on a first date.

Ken – I love Billy Joel, even the borderline crap like Allentown. In fact I FUCKING LOVE Allentown!

I like their albums in the 70s & 80s & Big Band & Christmas & Live In Chicago & Stone of Sisyphus. But I'm mad that Bill Champlin just quit.

#

Tony Jaguar

on 13 Jan 2010 at 10:19 pm

Jesus wept. Billy Joel.

In Chicago they get lots of airplay on WDRV "The Drive" but it's only their 70s songs – nobody else plays their 80s/90s/00s except Love Songs stations. Bummer.

Here they are: http://www.chicagotheband.com/

#

Pete

on 14 Jan 2010 at 7:32 am

Actually, Joel's "The Nylon Curtain" is brillaint. Allentown just happens to be one of the "hits" from it and doesn't truly reflect the John Lennonesque style of the entire record.

#

yappindog

on 14 Jan 2010 at 2:00 pm

I can't believe somebody would mention Chicago and Steely Dan in the same paragraph. Your post says it all. 70's Chicago was kind of OK, and was completely obscured by all the audio garbage that followed.

BTW, I don't think that person that got up at 0.37 in the clip was a lady. Dude maybe look like a lady?

Yappindog – I watched the clip about 50 times trying to figure out the sex of that person. Finally I was just like, fuck it, I'm calling it a her.

it is not good. look at the way dude moves his lips when he sings in the first video. if it is a guilty pleasure, word, we all have them. but to all justifying it as something quality, i gotta give the big stamp of "fuck no." i can practically feel the cheese accumulating on my dick as i press play on the video.

In the 70s WXRT in Chicago used to play the first 3 or 4 albums, but they've never played albums 5 to 32 even tho there are some hidden rockers.

#

Mark h

on 17 Feb 2013 at 1:12 am

Just out of Curiosity, is Pete? Peter Cetera?