Feb 09 2010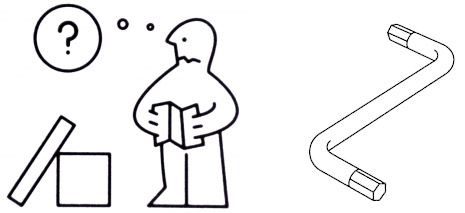 Oh IKEA, I hate you, I love you.
Like most people on the planet, within a week of moving to my new place I found myself making the pilgrimage to the blue and yellow monolith. I check my pride at the door, get on my belly and suck that IKEA teat like a hungry piglet. I'm pretty sure I know exactly what a crack whore feels like when she's "working." (That's two posts in a row that mention whores, if you are keeping score. More whores in 2010!)
I feel equal parts shame and excitement as I walk through those doors and the sweet smell of cinnamon rolls and particle board wraps around my body like the ghosts in Poltergeist. Shopping at IKEA is like telling the world, "I'm poor, I'm lazy, I like ümlaüts and I want my stüff to look like your stüff." I spend most of my time convincing myself that, "It looks OK, right? It's kind of cool looking, right? It doesn't look too IKEA, right?"
I would love to sit here on my throne and criticize all my fellow IKEA shoppers as middle-of-the-road, boring, predictable, suburban, wannabe hipsters but how can I when I'm walking around filling my cart with Flürgens, Gråbenfüks and Lüäöküöås just like they are. I want to feel superior, but as I type this from my IKEA Vika Grevsata desk it's not that easy. I used to be cool. I used to be in a band.
But don't think the pain ends when you get home with your pile of vaguely stylish products. Oh no silly pants, that's when you get to decipher Swedish hieroglyphics and spend the next 7 hours assembling your crappy bookcases.
Is it würth it?
22 comments to "IKEA!"
#

Jeff

on 09 Feb 2010 at 4:05 am

Sürely you can pay the meager fee they charge for home assembly – it's öre well spent, believe me.

I too have a love/hate relationship with IKEA. We have at least five pieces of IKEA furniture and I mostly love it. However, I hate that they believe in 'assembly by rebus', in other words, no words, just pictures. And allen wrenches can suck it.

This is hilarious:
http://www.youtube.com/watch?v=vYoW0F01NbQ

Oh, and those cinnamon rolls are fantastic.

#

icecycle66

on 09 Feb 2010 at 8:30 am

I hate IKEA food. What a bunch of assholes.

Those sons of bitches ruined a good batch of crawfish. My wife told me they served boiled crawfish on Thursdays, so I drove 100 MILES for boiled crawfish. Bullshit, they had crawfish steamed with dill and other crap that was not Crab Boil. It tasted like a damn shrimp pickle.

Scandinavian bastards.

Ken – Nice clip. The rolls are decent but after you have tasted an Ann Sather roll all other rolls kind of suck.

Icecycle – Their food is exactly as good as their furniture.

#

Erin

on 09 Feb 2010 at 9:30 am

Hmmm… I am glad I live in the frozen artic tundra of Maine where no IKEA's exist… yet! But we do have an asshole named Bob's Discount Furniture who I am guessing is along the same lines as IKEA, with free ice cream and snacks and overpriced crappy furniture and shitty sales people. He has the most annoying commercials with claymation people and real furniture. Ugly spokesmodels with shrill voices that sound like a dentist's drill! Good luck getting some new furniture and I am glad to hear your rebuilding.

#

joe!

on 09 Feb 2010 at 9:52 am

what the fuck is ikea.

Erin, I've never been to Bob's but it doesn't sound quite like IKEA. There is nothing in America quite like IKEA. At IKEA, there are no gimmicks (except the gimmick of being entirely lost as you walk through the door), no salesmen on commission, and nothing is overpriced.

IKEA is simply a confusing, swedish, inexpensive Narnia portal with psuedo hip, addequate furniture.

Its basically where young, poor people buy furniture. and 99 cent breakfast.

#

rachel

on 09 Feb 2010 at 10:43 am

oooooooooooooooooooooh listy….

i love IKEA (always capitalized) so much i wish i could marry it. thank god mine is right around the corner! when my husband and i got married, they were running a promotion…the first 30 people that arrived dressed as christmas presents on saturday morning before christmas got $100 gift cards. guess who was right at the front (middle) of that line, the night before… you bet your ass i was, with my husband and my best friend in tow. we spent an effing freezing December night in the parking lot with a smattering of other IKEA-lovin'-douches. it was fantastic. it got so cold that the IKEA manager came out with coffee and cocoa for everyone. then we ordered Domino's to drop off a pizza, and were hailed as geniuses. the next morning, clad as gift wrapped presents, we blew through that $200 in about 5 minutes. to this very day, when the going gets rough…my husband and i will look at each other and say.."we'll always have IKEA."

#

AB

on 09 Feb 2010 at 10:47 am

Hello everybody.

HAHA! Well, I have to partly disagree. I like Ikea. I like Ikea products – I really do – but I HATE, just plainly HATE, going to Ikea.
And no, I am not talking about the nice and little Ikeas here in North America. See, I lived in Germany for most of my life – well, I am German. Born and raised and now I am living over here for like 18 months. So….we just bought our first house and of course, we'll have to look at Ikea's stuff, since I had to leave behind all my BILLYs and MALMs (bookshelves and chests of drawers).
Oh my, it's not so bad over here. Yes, it is still annoying, and no, there are still no shortcuts through the store.
BUT: In Germany (and the other European countries for that matter), they have little signs in the store…..for when you stand in line, waiting to pay for your stuff…..saying " from here it's just 90 minutes until you reach the cash" – and THAT, is probably the worst thing about the whole store.

I still like the furniture, I like their hot dogs (no rolls at home, I will try, though) and it's not THAT bad to put together. Yo just have to think Swedish. Oh yes, that's the problem.

Never mind then….

#

icecycle66

on 09 Feb 2010 at 11:22 am

Oh yeah, and what the hell is with the damn street lines. You walk into that behemoth building and what do they do, they put you on a path.

All I might need is one damn lightbulb to fit in their proprietary lightbulb lamp fixture and I have to follow traffic rules through the bathroom department, the computer table department, the department with all the miscellanious walls people hide behind to make sex in public videos for the internet, and the toilet lid slip cover assembly department to get the the damn light bulb bin. Then I have to walk through the rest of the damn store to check out.

And what they hell is the deal with find out that I am on the 3 floor of this store. I don't even remember any stairs.

Although I have thought about how long I could live in an IKEA (like those asians and east europenas do in foreign airports) before getting caught and kicked out.

In the maybe twice-yearly need to visit our local IKEA, just across the bay in Emeryville (home of Pixar!), it literally takes me about a month to psyche myself up for the trek. It's like, what – 10 miles away?

Usually, I'm there to get candles or a show curtain or window coverings, and little else. Although, I did find a kick-ass shelving unit for my office that solved an interesting problem I had – but dammit they were expensive… Ummm, right… otherwise, I hate… hate… HATE it..

Stores that big make me crazy, what with the buzzing sodium vapor lights and the maze of partitions and what not.

My advice? Search your local Craigslist for anything IKEA you might be looking for first… it's usually there because I think the average IKEA shopper is pretty transient.

#

Jacob

on 09 Feb 2010 at 1:25 pm

You should try the 'princess cakes.' They're green little things, they got them in a freezer by the food kiosk… THEY'RE FUCKING EXCELLENT.

#

Christine

on 09 Feb 2010 at 3:00 pm

I have never been to an IKEA. Partly because it will forever and always make me think of "The Wire" and McNulty and Kima unsuccessfully trying to assemble furniture for children. Now I find out from the comments that IKEA serves food as well, which makes it seem esp. gross. It like in the 70s when KMART had that little diner in the back of the store next to the portrait studio and the whole place reeked of old hotdog.

Christine – YES! I miss the K Mart diner!!!

#

Liz

on 09 Feb 2010 at 7:30 pm

This has nothing to do with IKEA. But still.

http://www.huffingtonpost.com/2010/02/09/megan-foxs-motorola-ad-th_n_455806.html

Liz – My friends and I were cracking up over the hand model obviously used to hide this creature's hideously deformed thumbs. Thanks for the link.

#

SuperSlut

on 10 Feb 2010 at 3:19 am

Thanks for the link, Liz. I wouldn't kick that Svede out of bed for eating Ikea meatballs in it…

#

SuperSlut

on 10 Feb 2010 at 3:22 am

oops, i mean jeff. megan fox can fuck herself filthy with her freaky finger. (i felt like we needed a bit o' alliteration).

#

Yubbers

on 10 Feb 2010 at 5:51 am

http://www.ikeafans.com/galleries/images/9570/large/1_erikjohansson09.jpg

#

joe!

on 10 Feb 2010 at 9:16 am

i get my shit for free. plus commission.

#

Liz

on 10 Feb 2010 at 9:35 am

Yea, I think this post made me think of it because Megan Fox could never use one of those tiny wrenches from IKEA with her big hand-toes.

#

m

on 10 Feb 2010 at 10:23 am

hate the store -the products- building the shitty products- trying to fit the shitty products in your car and the absolutely terrible customer service -totally useless cretins-
ABOLISH IKEA