Feb 26 2010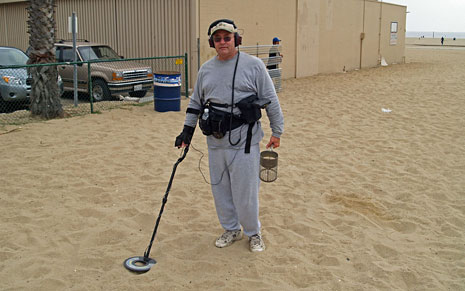 If I am ever this bored please kill me. Punch me in the face, take the metal detector out of my trembling hands, use it to find the nearest large metal item and kill me with it. The only problem with this plan is that it will most likely take you 10 years to find a metal "treasure" big enough to even slightly wound me. I don't want to sit there for weeks while you try to kill me with someone's lost earring. Fuck it, just kill me with the metal detector.
I know I shouldn't care if this activity makes people happy, especially since it's usually old guys, but it depresses me while I'm chugging my Corona and flexing my biceps for the young ladies who inevitably crowd around me at the beach. Do these dorks realize how hard it is to keep my pecs pumped while watching this sad display out of the corner of my eye? I'm trying to decide which girl gets to oil me up while Joe Treasure Hunter is collecting bottle caps. It's very distracting.
THIS JUST IN… I love metal detector enthusiasts!
9 comments to "Metal detector enthusiasts!"
My uncle is an avid metal detector guy – and he's found some pretty amazing stuff, like a still-loaded COLT pistol from some notorious pirate (it's engraved with his name) that ship-wrecked off Cape Cod hundreds of years ago.

He's hired by people to find their missing jewelry and shit like that.

That would have been PERFECT to kill me with!

#

joe

on 26 Feb 2010 at 9:08 am

at least it keeps me off the crack.

A metal detector guy once helped me find my hotel key, back when it was a big deal to lose a hotel key. total lifesaver. I have nothing against these ole timey men.

#

Ben

on 26 Feb 2010 at 10:59 am

go get about 50 metal washers from the hardware store. drop them just in front of the metal detector guy. Sit back and watch the hilarity.

#

Tommy

on 26 Feb 2010 at 12:49 pm

i'd rather have a flame thrower

#

Ed

on 27 Feb 2010 at 6:55 am

THIS JUST IN-ME TOO! Wow. Awesome.

#

Ed

on 27 Feb 2010 at 6:56 am

THIS JUST IN- Outstanding. My metal detector is going off. Sorry.

#

Jonathan

on 01 Mar 2010 at 2:39 pm

Ed: Don't you mean a wood detector?