Mar 03 2010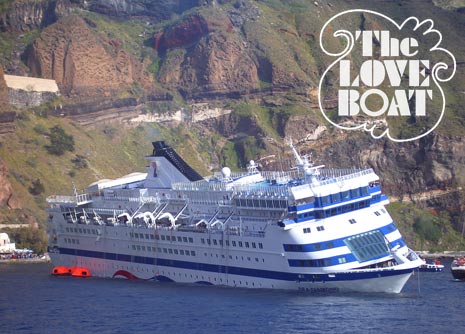 Hey, here's a great idea, let's float around the middle of the ocean trapped in a giant mall with a bunch of shitty assholes. If we really get lucky, we can all catch the same mystery illness from our little white trash ecosystem. Don't worry too much about catching something though, it rarely happens!
Who wants to do this? What's fun about floating around on a giant Holiday Inn and stopping for only an hour in various ports where the locals descend on you like the pubic lice you will no doubt catch from your bed sheets? Then, every night you are forced to eat dinner with strangers who just can't stop talking about how much they enjoy reruns of "Tool Time." They will be referring to "Home Improvement" but will call it Tool Time even though they literally watch it every day.
You know when people disappear form cruise ships? I promise you they are jumping to their deaths after the third day of listening to yokels babble on and on about how "funky" that Paula Deen is.
There is no amount of money that could convince me to waste my vacation on a cruise.*
*I know, I know… there are cool, smaller cruises that go to places like Alaska. I'm not talking about those. Maybe I am. I don't know anymore.
15 comments to "Cruise ships!"
#

SA

on 03 Mar 2010 at 6:31 am

Oooooh… ALASKA

*gasp*
Unchartered land…

#

Andra

on 03 Mar 2010 at 7:16 am

I was just saying pretty much this same thing to my husband yesterday. Cruises are the worst thing ever! Thank you for educating people, it is appreciated.

Well said.

What a disgusting industry this is.

Agreed. Never been on one. People tell me they are fun and a great deal, infact I'm sure I would even have fun if I went on one (like if I for some reason I won a cruise). But I am morally against them. I'm glad they exist though. It keeps tourists carrolled like cattle in one confined area. Easy to avoid when doing some actual real traveling.

Oh, and love how Crystal Cruises is advertising on your blog.

#

Sara

on 03 Mar 2010 at 12:37 pm

Ha ha! Take that Crystal Cruises, next time research your vendors.

My husband and I considered one of those disney cruises that babysit your kids all day while you get drunk and play on the water slide. But I get realy freaked out if I can't see land from a boat, no matter how drunk I am.

#

Jonathan

on 03 Mar 2010 at 12:51 pm

Cruises are great if you want to spend all your time with other stupid, clueless Americans and see nothing of the real cultures of the places you're visiting. Nothing says "world traveler" like mass-printed t-shirts and shitty trinkets.

#

Scotty T

on 03 Mar 2010 at 2:21 pm

I remember going on one about a year ago with the family to the Carribeans. I got duped by the locals into buying some nice cigars at an unreasonably inflated price. Well, aPARently you can't even take these home with you! Plus they give you this Credit Card you can only use on the boat in place of cash so you don't feel so bad when you're paying $6.50 for a glass of gas-station scotch.

#

Tommy

on 03 Mar 2010 at 5:00 pm

OH man listy, you had me losing my shit with your explanation of the yokels and their "TOOL TIME". You captured some magical prose today dear sir.

Although I think you're totally right I'd actually been considering taking one of these booze cruises down to Ensenada from San Diego some summer. I mean…if the booze is included in the price that makes it ok right?

#

Paul in Saint Paul

on 03 Mar 2010 at 5:01 pm

The Love Boat went to Alaska. Julie found and lost love in between lines of cocaine.

#

Tommy

on 03 Mar 2010 at 5:01 pm

for the record i usually drive to mexico and camp on the beach but drunkeness is my favorite on land or sea

Tommy – Well, I guess booze just solve most problems. You hear that kids? Drinking fixes everything!

Paul – Really? I thought they always went to Puerto Vallarta or something like that.

#

Fartface

on 04 Mar 2010 at 9:20 am

Cruise Ships SUCK.

http://news.yahoo.com/s/ap/eu_mediterranean_cruise_ship_accident

And are "cruisers" so delusional that they feel like they've had the "island experience" when they buy a pukka shell necklace from some kid — which is probably made in China and probably made of plastic. Which–given your previous post on the subject–they shouldn't be buying in the first place.

Cruisers are in the same category as those people who go to an island – and never leave their resort. And eat Taco Bell-style cuisine and think they've gone "all native".

Geesh!

#

Sara

on 05 Mar 2010 at 3:15 pm

Paul your reading to much TV Guide

#

Jonathan

on 08 Mar 2010 at 10:07 am

Julie: I will say that there are some islands where you SHOULDN'T leave the resort, such as Jamaica and the Dominican Republic. That said, yes, people who go to safe places and stay at the resort — or even venture out on lame-ass guided tours for white folk — are lame.