Mar 08 2010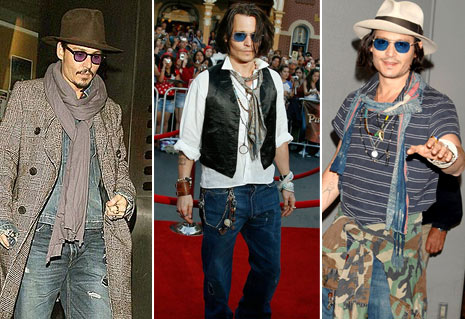 I was all set to write about how much I hate the Oscars, but God damn it, I didn't mind them this year. I was happy to see The Hurt Locker steal awards away from that piece of shit Avatar. Keep in mind, I have not seen either movie and yet I have a strong opinion on both. I'm proud to be an American!
Since I have celebrities on my mind, let's talk about how much more awesome I am than Johnny Depp.
I like Johnny Depp as an actor and I'm sure it would be fun to get drunk with him and have a sword fight. Not like a penis sword fight, I mean with real swords. Although, he was in those pirate movies so it wouldn't be very fair. OK, let's just say we get drunk and MAYBE have a pee sword fight. The point I'm clearly making is that this guy dresses like he was part of some childhood game where the participants are blindfolded and race to see how many articles of clothing they can put on before time is up.
I mean what is this guy's thought process in the morning? "OK, let's see here… two pairs of jeans, socks on my hands, a leather belt and car keys around my neck, a diaper, five shirts, peanut butter in my hair, tampons in my ears and finally I think I will top it all off with the kind of hat computer programmers wear on game night. Done and done!"
16 comments to "Johnny Depp's fashion sense!"