Mar 10 2010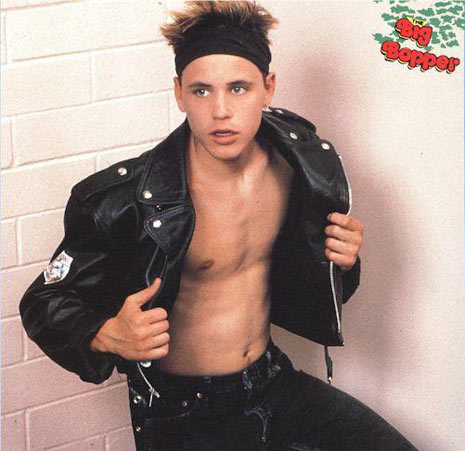 Not only is MY birthday ruined, I'm sure Corey Feldman is having a pretty shitty day too. This is one of your all time boners, God!
True story… I was in a movie with Corey Haim and spent the better part of a day with him. It was the most beautiful day of my life. What is it going to take for God to kill Guy Fieri and leave the good ones alone?!? God is a douchebag.
If you have never seen Corey Haim's self-produced video "Me, Myself and I" I suggest you find a copy and spend the day in bed watching it. Unfortunately, it looks like that is how I will be spending my birthday.
Throw it to Lucas, in heaven.
22 comments to "God, for killing Corey Haim… ON MY BIRTHDAY!"
#

Amy Louise

on 10 Mar 2010 at 8:30 am

Looks like 2010 is off to a 'good' start.

#

Jeff

on 10 Mar 2010 at 8:40 am

Uggh it's like the 80s died. http://tiny.cc/3vQ1A

#

Sara

on 10 Mar 2010 at 9:02 am

Do you think Corey Feldman will die soon to? Like some twins?

Sara makes a good point. I can't take losing two Coreys in one day. YOU HEAR ME GOD, KEEP YOUR DIRTY HANDS OFF FELDMAN!

#

Tommy

on 10 Mar 2010 at 12:52 pm

This is ultimate sadness

#

jason

on 10 Mar 2010 at 2:46 pm

i actually felt bad about this. "The Lost Boys" is one of my favorite movies of all time. Corey H. was hysterical in it. "My own brother, a goddam, shit sucking vampire! Oh, you wait 'till mom finds out".

its pretty sad. drugs are evil.

Jason – Yeah, I'm sad about it too. it's never good to hear about a young person killing themselves with drugs.

#

rachel

on 10 Mar 2010 at 3:19 pm

RIP in Tiger Beat Heaven.

#

Andra

on 10 Mar 2010 at 3:51 pm

I am sad he died, but a little happy because it means you gave us a double hit of rage today. Does that make me a bad person? Probably….

#

Paul in Saint Paul

on 10 Mar 2010 at 4:14 pm

He missed the Oscar montage of the dead by just a few days.

I know your and Corey's shared admiration for John "Yeah, Jack Tripper!" was intense.

Happy Birthday anyway. Corey would want you to celebrate in style. Just not so hard.

I'm genuinely sad about this. A part of Glen Ellyn lore is gone. Not as sad as I was when John Hughes died, but still.

#

Ed

on 10 Mar 2010 at 5:08 pm

My youngest sister (32) is very sad today. She has been texting me all day about this story. He wasn't in my circle of stars, but my sisters loved him and River Phoenix.
Well, 9/11 is my brother-in-law's birthday so…

#

Drew Crumbaugh

on 10 Mar 2010 at 6:20 pm

so you too were in Lucas? Small fucking world!

My Hadley Jr High red jacket is visible – for about 1.5 microseconds – in one of the crowd scenes.

But nothing beats J. R. towering over all the other students in the hallway/stairway upon Lucas' triumphant return at the end of the movie….

Hasn't god made your list before for killing people?

My online novel is set in the Illinois village where "Lucas" was filmed, during its filming. The novel ain't done yet, but check it out at http://www.summerof1985.wordpress.com.

Billy – Hold up, wait a minute… Did you go to West in the 80s? Do I know you? I need details. By the way, I totally forgot about Mole City! Nice.

#

Larz Blackman

on 14 May 2010 at 2:09 pm

Corey Haim was responsible for his own demise. He was an uberdouche. You are a mere douchebag.

Larz – I hope you burn in hell for saying such awful things about my dear Haimster. DIE!

#

Matt D'Amico

on 17 Jan 2011 at 5:47 pm

Wait…am I to believe you, Listy? Were you really in a movie with The Lesser Cory? Were you one of the guys taking the computer test with him in "License to Drive"? Perhaps the one with the Izod shirt with the popped collar and the jorts? Nice! Oh, also…burn!

Matt – It is true, Corey and I spent an entire day together. It was beautiful.

[…] God purposefully kills Corey on my birthday, then last night he had the fucking balls to cut Haim out of the Academy Awards death montage! When […]

#

Asshole

on 07 May 2011 at 5:23 pm

I'd like to see you thank God for some good that happened in your life, instead of bitching about the things you don't like and blaming it on something you probably don't even concern yourself on a regular basis with.