Mar 16 2010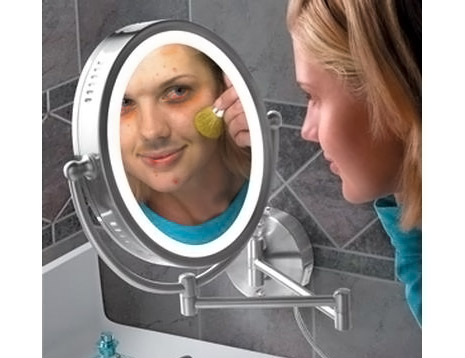 We've all been there. You're staying at a hotel with one of those wall-mounted mirrors and you decided to extend it from the wall and take a look at yourself. You think, "Not too shabby, I'd fuck me. I would give myself a handjob at the very least." This is where the story should end, but we all have that sick fascination with the other side of the mirror. The evil side. The dark side. You know the outcome of this little experiment of yours and yet you still take your dumb hand and flip the mirror over to reveal the most disgusting thing you have ever seen… your own face!
Suddenly a combination of Mackenzie Phillips and Edward James Olmos is staring back at you and every zit you have ever had in your entire life is visible again. Hey look, there's that zit that ruined prom! Every pore looks like a cat's butthole and your eyes look like rivers of blood held in place by spaghetti.
The nightmare is far from over though. A sane person would push the mirror away, allowing it to smash against the wall, but you are drawn to this horror show like a fly to shit. Oh no my friend, you lean in for a closer look. Sicko.
7 comments to "Magnifying mirrors!"