Mar 18 2010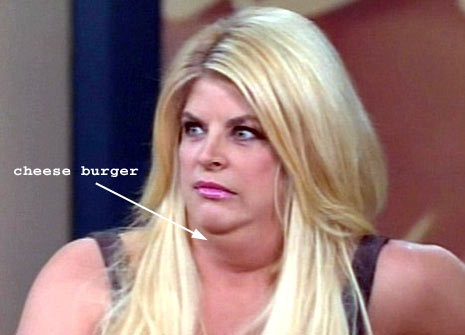 Kirstie, can you stay off my TV for two seconds, my entertainment center* can't support your fat ass anymore.
Everyone's favorite jiggly tub of sausage is back with a new show about… drum roll… being fat! She first rolled (literally) her way into our living rooms with "Fat Actress." I never saw the show but I'm assuming most episodes centered around Kirstie being fat and talking about being fat. Oh the good times I must have missed! The beast that ate Kirstie Alley (that would have been a way more kick ass title) is back with a new program called "Kirstie Alley's Big Life," but this time around the show is about Kirstie being fat and talking about being fat.
I checked IMDB and Kirstie Alley has been in at least 10 shows about being fat…
– Jesus Christ, Kirstie Alley is Fucking Fat!
– Kirstie Alley Eats Her Way Out of Bags Made of Meat
– Kirstie Alley: Only Slightly Less Attractive Than When She Was Thin.
– STAND BACK, ME HUNGRY!
– Cheers
– Hey, Kirstie Alley Just Ate Everything in My House and Drank My Pool!
– Kirstie Alley Tries to Reach Things
– Look Who's Choking Now
– I'm a Celebrity, Please Help Me Put My Pants On
– Cloggin' Da Toilet Wit Da 'K Dog' Yo!
We get it Kirstie, YOU'RE FAT!
Writing this made me hungry.
*I don't actually own an entertainment center.
15 comments to "Shows about Kirstie Alley being fat!"