Apr 06 2010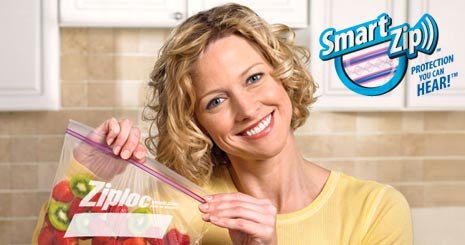 Why am I the last person on Earth who can do anything that requires the skill set of the average kindergarten student? How is it that I manage to close and seal a sandwich baggie without the aid of color-coded plastic OR special sounds gently encouraging me and reminding me that I'm doing it right?
The latest sandwich bag technology, "Smart Zip," comes to us from the genius bag scientists at Ziploc. That's right idiot, your baggie now comes with sound! As you run your greasy unemployed fingers across your bag of weed it says things like, "You can do it! Good for you, you're closing the baggie. Don't give up now, you can do it! Almost there… YAY you did it, high five!" Before you know it, you've actually closed a Ziploc bag all by yourself! Next on the agenda, tying your shoes.
Imagine the hellish life of the poor assholes who work in the windowless labs at Ziploc, desperately trying to invent new bag "technology" so they don't get fired and have their Sea-Doo personal watercrafts taken away. Those Dave Matthews tickets aren't going to pay for themselves!
"How was your day honey?"
"NOT NOW Carol, I just need a drink. Who the hell drank all the T.G.I. Friday's Mudslides? Damn it Carol I just made those last freakin' night. I'll be in the garage sitting on the Sea-Doo."
15 comments to "People who are too stupid to know if a Ziplock baggie is closed or not!"
#

Jim Jones

on 06 Apr 2010 at 7:10 am

Anyone seen the movie "Idiocracy." America: moving one step closer to OW! MY BALLS!!!!

Jim – I know that movie is supposed to be funny but it scares the shit out of me. Almost feels like a documentary.

#

Jonathan

on 06 Apr 2010 at 8:25 am

I love how you hate everything "Middle America" loves. They are the ones ruining this country, not the "elite."

#

caleb

on 06 Apr 2010 at 8:27 am

that last paragraph almost made spew coffee all over my computer… hilarious!

[…] This post was mentioned on Twitter by DDOCS, Jodi Rotondo. Jodi Rotondo said: This made me laugh. Are you smart enough to handle a Ziplock? http://ow.ly/1v7ad […]

#

Tommy

on 06 Apr 2010 at 11:30 am

Thanks for that.

#

Jim Jones

on 06 Apr 2010 at 11:44 am

Listy, I can look at family members and say "holy shit, they made the big time" when I see that movie!

#

joe

on 06 Apr 2010 at 12:12 pm

who uses ziploc for weed?

#

Erin

on 06 Apr 2010 at 12:29 pm

Lets hope that Ziploc starts making condoms… so people that need those bags don't procreate.

I've got a bag she can zip…

#

hodan

on 06 Apr 2010 at 4:38 pm

for a quick second i thought i was looking at Meg Ryan's repulsive face.

#

Steph

on 06 Apr 2010 at 11:36 pm

A girlfriend??? Does she want to meet behind 7-11, too?

Steph – OK, now we're talking. Can I hire a photographer to capture this historic event? This might be a good chance to get a nice photo for my Christmas card.

"Next on the agenda, tying your shoes." Oh Listy, giving way too much credit here. People who need audio and/or visual cues for their ziploc bags almost certainly wear shoes with velcro closures.

#

Amber

on 21 Sep 2012 at 5:04 am

So sad I have just now stumbled across this blog now, and that you no longer write it. This is the best stuff I've ever read. Please write a book.