Apr 15 2010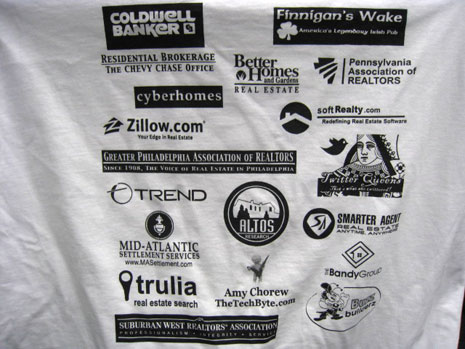 I donated $50,000 to your shitty event and all I got was this lousy T-shirt!
Think of the business that's going to pour in from that 1/4 inch logo on the back of the T-shirt for the event you sponsored. Unless your company manufactures exercise equipment or sleeping equipment, don't waste your time because these t-shirts will be exclusively worn at the gym or as a "sleeping shirt."
At least with the incredible amount of white space separating each piece of art your logo will REALLY stand out! I think they should combine all the logos into one super logo that fills the entire back of the shirt. Everyone wins!
That's all I got. There's BBQ chicken in the next room begging to be eaten.
7 comments to "T-shirts covered in event sponsors!"
#

ffaf

on 15 Apr 2010 at 10:01 am

One of them is "Twitter Queens," pardon me while I refrain from googling that.

That is a seriously awesome rag to use when changing my oil!

The thing is: people wear that shit.

#

Tommy

on 15 Apr 2010 at 12:05 pm

I feel like you just called this one in lister.

Tommy – I feel like I'm going to mail you a ziploc filled with my farts.

#

ffaf

on 15 Apr 2010 at 9:27 pm

Not everyone knows if their ziploc bag is sealed, so take extra precaution closing the bag.

#

Adi

on 16 Apr 2010 at 4:46 am

I think people should write "all businesses listed employ pedophiles" on these shirts in permanent marker (i can't bring myself to use the word "sharpie") just as a goof and as a "fuck you" to all these companies trying to make people walking billboards.

#

Tom

on 01 Feb 2013 at 1:22 am

People that wear shirts like this must feel like a fucking drag car. All they need now is wheelie bars coming off of their ass and a hat shaped like a hood scoop.