Apr 22 2010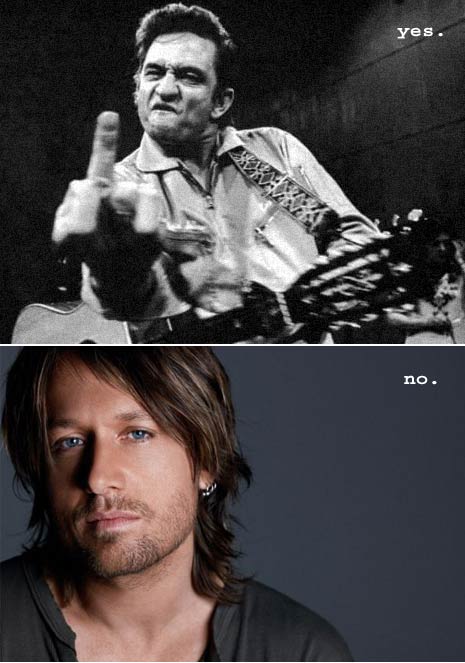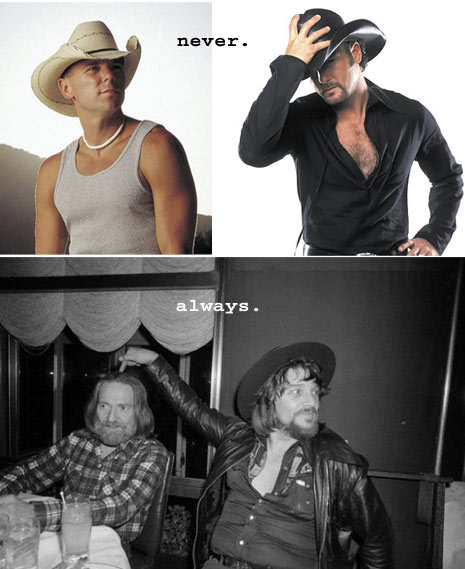 You can have my eye-liner when you pry it from my cold, incredibly soft dead hand!
Howdy. Let's get one thing straight right now partner… I love gay people, I have many gay friends and this has nothing to do with homophobia, but come on guys, let's butch it up a bit.
How can I take you seriously when you are singing about beer and horses if the cowboy from the Village People makes you look like Isaac Mizrahi? It's not even about looking "gay," I guess it's really more about looking like women while trying to act like tough cowboys. I want my country singers to exist solely on a diet of whiskey, pills, beer, beef jerky and cigarettes. I want a stinky cloud of body odor and hooker's crotch to linger in the air when they walk out of a room and I want to feel like less of a man for even standing in their presence.
It seems strange that your average southern male country fan would kick the ass of any gay man but then turns around and worships these overly-groomed fancy lads who look they they just stepped out of a 1991 gay porno. Although, let me give HUGE props to Rascal Flatts for actually having the balls to write a song in favor of being who you really are, gay or straight. The song sucks donkey balls but it's very cool that a hit country band with plenty to lose would have the guts to do such a thing.
So come on dudes, man up or Johnny Cash's zombie corpse will rise up and kick you in your freshly waxed balls.
23 comments to "The confusing sexuality of today's male country singers!"
#

Jeff

on 22 Apr 2010 at 5:09 am

What do you have against gays? I think the lady doth protest too much.

Jeff – Time for a new joke.

Modern Country is a fucking joke. We were sitting at one of my favorite bars the other night, Zeitgeist (recently named the bar with the least friendly barkeeps), and some death metal tune came on the jukebox.. it was awful, really… but I said that I would rather listen to the nastiest death metal than modern country – as death metal is as close to white noise as you can get, and thus easy to tune out.

Now, I'd like to clarify, I like country music, but from the likes of Hank Williams Sr., Merle Haggard, Jim Reeves and the likes – and of course Johnny Cash, John Prine et al…

But these modern country fucks… over-produced, lame stories of struggle that they've likely never experienced. It's almost like gangsta rap from some cat who grew up in the 'burbs (ever see CB-4?). Lame.

Yo, Boys….

This is Randy Jones…"that" cowboy you mentioned up in here that makes all these wannabees look like Isaac Mizrahi.

I was raised on Johnny Cash, Waylon, Porter, Uncle George, Willie and the gang…so I don't mess around.

And you do have a point…all that waxin', "guy"-liner, trimmin', etc…they need to leave that to the ladies. The original Outlaws did it best.

Thanks for the mention. And, watch out, you never where the hell I might show up and surprise y'all!

Stay strong and keep it up!

Randy Jones
Original Village People Cowboy
http://www.RandyJonesWorld.com

#

Jay

on 22 Apr 2010 at 1:47 pm

Country music was a beautiful thing up through the early 80's, but has morphed into pure commercial garbage ever since. I doubt there's an audience or a record label in today's country music scene to support a new artist the caliber of Johnny Cash even if he or she exists.

#

Xina

on 22 Apr 2010 at 3:06 pm

So I wanted to listen to the song since I'm not a country fan but I'm always for a song that supports someones right to love freely. While I do agree that the song is terrible my dog seems to love it. He was downstairs and as soon as the song started he rushed upstairs and listened to the entire song intently. He's a pug that's been having an ongoing love affair with a stuffed animal. And after seeing his reaction to the song I have no other choice but to support his decision. Thanks for making my dog happy.

Randy – It's official, I have arrived! Thanks for the comment and I'm happy to hear your Village People persona came from a genuine place. For my money, nothing tops Johnny Cash. I'm not just talking about country music either, I put him above everyone, including the Beatles (yeah, I said it).

I share your love for old country music and I've been known to whistle "In the Navy" from time to time as well. I was a kid in the 70s, how could I not like a band of construction workers, cops and cowboys? You guys represented everything I wanted to be when I grew up. Little did I know the rest. Genius!

Thanks for stopping by Randy.

#

Paul in Saint Paul

on 22 Apr 2010 at 4:57 pm

Wow! A nod from The Cowboy from The Village People? If you've never seen them live, you've missed out on a joyous experience. This blog has just hit a new level.

Please remember Willie Nelson is still out recording and touring and ending up in court because his tour bus is full of pot. He's a living link to the great days of country.

#

Jeff

on 22 Apr 2010 at 8:25 pm

Listy, I was going to say I'll stop making jokes about which side you bat for when you stop posting pictures of scantily clad men on your website…

…but, damn, you got a Village Person to post on your site – well done!

Jeff – Apology accepted. Now bow before me.

#

Steph

on 22 Apr 2010 at 11:46 pm

I am so proud of you, Listy. To this day, "YMCA", "In the Navy", et. al. Kicks my ass! I, too, grew up in the '70's. My pre-pubescent self loved "The Village People". Granted…I did not understand their concept at the time.

I also LOVE that Randy Jones posted on your site. How fucking cool is that? I bet that he never wore guy liner. Just that awesome mother fucking hat!

You can post these cockhole, whispy-haired, Wanna BE Men all that you want. I will never accept it.

By the way, Jonny Cash IS by far BETTER than the BEATLES could ever be! EVER!!!!!!!! (Yeah, I SAID IT, TOO!)

Love forever,
Steph

#

Steph

on 22 Apr 2010 at 11:48 pm

P.S. Jeff, why don't you shut up for a bit, sugar?

[…] on to more important things. Are you aware a bonafide music legend left a comment on yesterday's post? Every one please say hello to Randy Jones of the Village People and make him feel welcomed. […]

Randy Jones! Village People! Macho Man Music lasts forever!

Excuse me now. I must dance.

#

Anne

on 23 Apr 2010 at 8:53 am

The Dixie Chicks have more balls than these nancy boys.

Long live the Village People!!!!

Anne – Agreed, The Dixie Chicks had a ton of guts to speak out like they did.

#

rachel

on 23 Apr 2010 at 12:26 pm

YAY RANDY!! xoxo

There's a fair bit of good alt-country out there these days. Check out Corb Lund, Son Volt, Loomer, The Sadies. That said, you are 100% correct on the mainstream country stuff.

Also, a Village Person! Awesome! and looking at his pics, he was definitely more "cowboy" than today's pretty boys.

Deadly – Yeah, I like some alt-country. Beck has some nice country-ish songs, including the song Rowboat covered perfectly by Cash.

The Village People at the International Amphitheater was my first concert, circa 1979. Went with my mom and Aunt. I was 9. How's that for a first concert experience, bitches??!!

Mad props Randy!

ken – My first concert was Neil Diamond (with my parents), 1982ish at the now bulldozed Poplar Creek. More on this subject later.

#

Steven

on 12 Mar 2011 at 4:03 pm

I agree with you on country music, it's boy band pop with a twang these days.
This has nothing to do with gay, though. I've met straight men who wore eye liner and wept at Avita, and I've met gay men who could break me in two with their little fingers.
Country music has gotten girly. Gay and girly are nothing alike.

#

ladale l swaim

on 27 Jan 2013 at 10:38 am

Well,well,well..I must say that whoever mentioned something about randy jones making other guys look like wannabe Isaac mizhari has really got the balls to even compare him to….do you REALLY want to make that comparison,because in all honesty,if you've you seen Isaac mizhari and listened to him….please…..randy Jones is in no way THAT feminine acting,in fact I never noticed or could even tell that randy was gay before up until I finally figured it out…still I don't think that it was right….the country music of today is so different than from what I grew up on,basically on the same music that randy grew up on…..that was pretty impressive seeing that you got randy jones ' attention THAT is SO funny