Aug 28 2008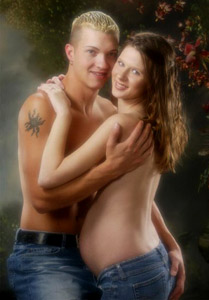 I watch a lot of People's Court and the biggest crime you will see is the murder of the English language. This is not a rant against People's Court however. I love People's Court. I want to marry People's Court. People's Court is the greatest achievement mankind has known.
My complaint is not specifically with people who appear on TV courtroom shows, or this lovely couple to the left (God help us), it's really about anyone who says "had went." For example "I had went to 7-11 to buy my old lady a panty rose when I ran into my parole officer." Here's the way this works, just say "I WENT to 7-11…" or if you really want to impress people with extra words you can say "I had GONE…" OK? Simple enough right?
Here's another odd grammatical phenomenon that seems to be spreading. More and more I keep hearing people using the word "whenever" in place of "when." What the fuck? Stop it! Someone will say "Whenever I went to buy some crystal meth I realized I left my money in my other overalls." NO NO NO! It should simply be "WHEN I went to buy some crystal meth…"
I just realized there must be people who say "WHENEVER I HAD WENT to buy some crystal meth…" I hate these people.
15 comments to "People who say "had went""