Apr 27 2010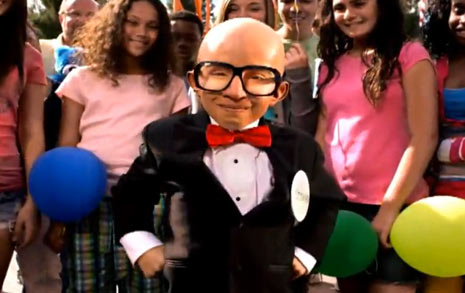 Fuck me.
Spring is in the air which can only mean one thing… Six Flags will be entering your soul, Freddy Krueger style, while you sleep and filling your mind with nightmarish dancing bald things in tuxedos, all set to a torturous soundtrack of pumping Vengaboys music. Welcome to hell.
Why is Six Flags trying to get me to commit suicide? First they tried to break my spirit with Mr. Six, followed by the yelling mad Asian guy. When I came out of that experiment alive they instructed that dancing penis to talk! I somehow made it through that summer without chopping my own head off but I'm not so sure I can make it to June thanks to the introduction of Mr. Six's baby(?) "Little Six." What the fucking fuck is going on?!? I feel like I'm watching an incredibly well-dressed kid with Progeria have a seizure.
And kudos to their ad agency for getting right on that Austin Powers/Mini Me craze (of 1999)! Top notch work.
Take me now lord, I'm begging you!
20 comments to "Little Six!"
#

Jim Jones

on 27 Apr 2010 at 6:18 am

WTF?!?!?!? Boy this really make me want to go to Six Flags!!!

#

Paul in Saint Paul

on 27 Apr 2010 at 7:19 am

Note: Austin Powers stole that mini-me shit outright from the wondrous 1996 remake of The Island of Dr. Moreau starring Brando as the titular character and featuring a teeny-tiny version of himself accompanying him in matching outfits, which were mostly mu-mu type get-ups, the only clothing that could cover Brando at this point. There is one scene with Brando playing a grand piano with his tiny version playing on a toy piano set atop the grand! The film is a marvel, to be enjoyed time and again:
http://www.regrettablesincerity.com/wp-content/uploads/2009/01/moreau.jpg

I am sorry about Little Six. Big Six is bad enough alone.

Paul – I had no idea Mini Me was a direct parody of Dr. Moreau. I've always heard that movie was nuts but now I MUST see it!

#

Lushis

on 27 Apr 2010 at 10:42 am

As if giant, thundering roller coasters aren't enough of a draw for Six Flags.

#

Jay

on 27 Apr 2010 at 1:38 pm

Yeah, I definitely like the old ads better.

#

Jonathan

on 27 Apr 2010 at 3:59 pm

But Little Blossom is so quirky and adorable! And Little Joey, with his blundering ways. And don't forget about Little Tony and his addiction to Dimetapp cough syrup! Aww…

Wow, I never realized how the angels have smiled on us poor schmucks in my part of the world. We have no Six Flags, so we have never been subjected to those grossly disturbing commercials. I'll never move away now.

Why the fuck do people even watch TV? I mean, seriously, man… According to my calculations, 57.823848321 (approximately) percent of your shit-list is derived from shit you see on TV.

Just turn off the damn thing and find something more productive to do. Until here, I'd never heard of Guy Fieri, or Mr. Six, or any of these whack bitches.

Now, I'm not some self-righteous "kill your TV" mofo, I actually work in the biz. Not having cable or dish or the likes, let alone any interest in 99% of the shit on TV these days, opens my time up for stuff like making Meth, cruising around town in a van, parking near schools as to freak parents out, making bread pretzels, playing guitar, reading, or masturbating while reading your blog…

Speaking of which, I need to go get a towel or a sock.

Jay – Nice!

SanFran – There are plenty of good things on TV and I really only watch those programs. I have some sort of disorder where I absorb pop culture whether I want to or not. I can't avoid it somehow.

You masturbate while reading this blog? Awesome, I masturbate while writing it.

Jonathan – Who the hell are all these "littles" you are talking about?

The hell, Listy? I thought you had a "website" not a "blog".

Don't be going soft on us now….

#

Detective John Kimble

on 28 Apr 2010 at 1:41 am

At least they got it right by showing a lot of 15 year old girls with slutty skirts…. That's the sad reality of Six Flags in California…

#

Tommy

on 28 Apr 2010 at 1:44 am

OH shit lister you cracked me up.

Perry – You're right, I'm sorry.

John K – Six Flags is the scariest, white trashiest place on Earth.

Tommy – I am great.

#

Jonathan

on 28 Apr 2010 at 10:58 am

Listy – when I saw "Little Six," I thought you were referring to the character from the animated Blossom spin-off "Little Blossom." Little Six is Little Blossom's best friend! She talks really fast and is so darn adorable! Granted, this show only exists in my head, but I assure you that it's awesome!

The real "Six" from Blossom was already pretty tiny. A littler version would simply be too cute to handle.

#

Steph

on 29 Apr 2010 at 1:00 am

Ewwwwww. Why are we refering to "six" from "Blossem"? Dammit!!!!! Christ. I hate you people.

#

Steph

on 29 Apr 2010 at 1:02 am

Mother fucker, I just spelled Blossom, "blossem". What the fuck?

#

Erica

on 01 May 2010 at 2:46 am

Jesus, I am now shitting myself laughing…weeing and shitting myself!!!! I thought we had finally moved away from this douchey franchise when we moved to the Northwest but seeing it here on the web is bringing back the nightmares!!!!!!!!!

#

Steff

on 21 May 2010 at 3:43 pm

Did anyone even notice that this "little six" *gag* ad started running shortly after Dave and Busters came out with their "little fun" ads. It's essentially the same thing although "little fun" is kinda funny and not one demented little dwarf. So glad I found this site and someone who hates shit like this as much as I do. 🙂