Apr 28 2010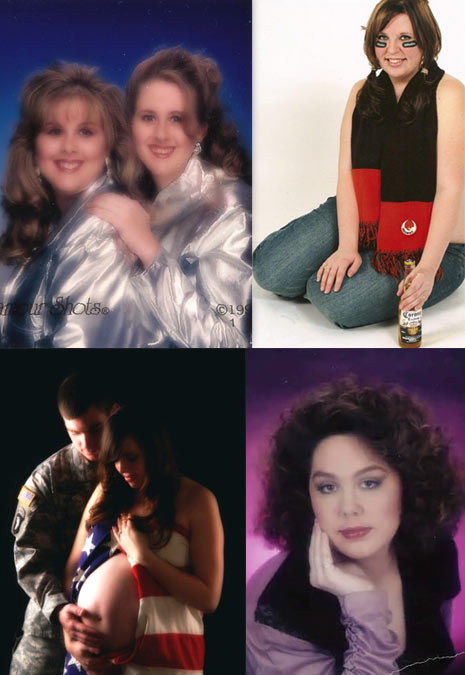 You can't polish a turd but apparently you can take its picture.
God bless you for thinking some zitty kid at the mall can magically turn your nightmarish face into that of a mid-level 80s porn star. Don't get me wrong, nothing turns me on like a woman with high hair in an acid washed jacket holding her collar with sausage fingers while giving me that "Do me on top of this cat calendar" look.
I just get so hot when I think about slowly removing your vinyl cropped motorcycle jacket from Walmart, ripping open your velcro fly jeans and making love to you on a pile of Star magazines while your Precious Moments figurines nervously watch the entire sweaty mess. I want to trace the curve (yes, the one curve) of your body with a jumbo Cheeto before placing it in your hungry mouth with my orange fingers. Finally, as we time our orgasms perfectly to verse 11 of "The Wreck of the Edmund Fitzgerald" I will pour a two-liter bottle of Mr. Peepers (your favorite generic Dr. Pepper) all over our naked bodies right there on the dirty floor of your trailer.
Gallery of sexy women holding their collars
24 comments to "Glamour Shots!"
Oh my…all those photos are just wrong. The "pregnant patriot" is especially disturbing. I love how mainstream media likes to pretend expectant mothers are "voluptuous" and have a glow. I'm here to say there's nothing attractive about it. Get a parka and cover up.

#

Sara

on 28 Apr 2010 at 7:54 am

I think you should have put "women" in quotations for the lead in to that gallery. Those two in the top left are highly questionable.

My store carries "Dr Bob"

#

Xina

on 28 Apr 2010 at 8:54 am

When I was in 7th grade my mom took me to get my Glamour Shots. I won't lie, I held my collar and slung my jacket over my shoulder with my giant Texas-esque hair and solid lines of pink blush. This was the very early 90's so it was slightly more acceptable. However, up to that point in my life I'd never felt sexier. But then I was a chubby 13 year old. How sexy should I ever feel?

#

Jeff

on 28 Apr 2010 at 8:57 am

Talk about low-hanging fruit. What's your next trick – are you going to kick a puppy?

Xina – PLEASE PLEASE PLEASE email this photo! I'm begging you!!!!!!!!!!!!!!!!!!!!!

#

ffaf

on 28 Apr 2010 at 9:53 am

Jeff – If it was low-hanging fruit, how come it was funny and none of us have ever seen anyone else rant about it?

#

Jonathan

on 28 Apr 2010 at 11:00 am

Jeff — it's not Listy's fault that a great portion of the American populace loves stupid shit like Glamourshots, Celtic Thunder and the Blue Collar Comedy Tour.

PS: Don't kick a puppy – kick a cat! Cats are the douchebags of the pet world!

Half those women look like men in drag. If Glamour = we'll make you look like a guy, then they succeeded

#

Jim Jones

on 28 Apr 2010 at 11:58 am

If you wanna make an ugly bitch look good buy alcohol!!! It's gotta be cheaper than paying for shitty ass pictures and you end up with the same result the next morning!

#

CamilleinCali

on 28 Apr 2010 at 12:28 pm

hilarious and disturbing

#

rachel

on 28 Apr 2010 at 12:38 pm

how is this *just* making the list? should've been your first post.

#

rachel

on 28 Apr 2010 at 12:40 pm

p.s. #4 looks like Chris Farley from the "Gap Girls".

#

Tommy

on 28 Apr 2010 at 2:03 pm

Pete: Go to Spain and check out the preggo chicks. They're still hotter than all american women while knocked up.

CATS RULE!

#

nicki

on 28 Apr 2010 at 7:06 pm

Wow, that is frightening. There is no way #4 is a woman, it just, it can't be… I mean, that's an adam's apple right?
( I know, women have adam's apple's too, it just #4's is so , um, prominent..)
Xina- Please share your glamour shot pic!!

you don't even know how much I want to print some of these out and wipe my ass with them.

well, maybe you do know.

#

Jeff

on 28 Apr 2010 at 11:13 pm

Ah…you will all get old someday and try to do a little something to make yourself feel younger – and then I imagine that there will be some snotty nosed kid making fun of you.

So comes around, goes around I guess.

#

Steph

on 28 Apr 2010 at 11:39 pm

Jeff, why are you such a douche? You're kinda funny, though, you fuck.

My photos with my sister at her wedding were "altered" I think. It looks like our faces were fuzzed a bit. Don't get me wrong, I look hot as shit, but I feel like the pictures were manipulated.

I never did a Glamour Shot, but I wondered about it. I would never pop the collar of my denim shirt, however! I would throw the damn shirt over my back, and "Rock IT!"

Love,
Stephanie

#

Steph

on 28 Apr 2010 at 11:44 pm

Oh, by the way, CATS RULE!!!!!!!!! My fucking cat fetches like a damn DOG! Her name is Cool.

#

Jonathan

on 29 Apr 2010 at 10:45 am

#4 also looks like Jim J. Bullock!! Nice!

PS: Cats suck!

#

Lushis

on 29 Apr 2010 at 1:02 pm

My own glamour shots pic was a near facsimile of these lovely ladies' photos here. Only i was twelve.
Cats Rule! Dogs Rule only slightly less! 🙂

#

elimfcash

on 30 Apr 2010 at 2:37 pm

why are they all holding their collar? weird ladies

#

Alessa

on 02 May 2010 at 3:46 am

I decided to do a Google Images search on Glamour Shots and found this:

http://1.bp.blogspot.com/_2NEuKgGJyMU/ScvlEDereKI/AAAAAAAAHgs/fZlKo4nBrYo/s400/red.glamour.shot.jpg

Holy hell. They should have an Ugly Limit.. just be like, "We can't take your money, there's no hope for you."

Alessa – Thanks, I'm going to spend some "alone time" with that photo.