Aug 29 2008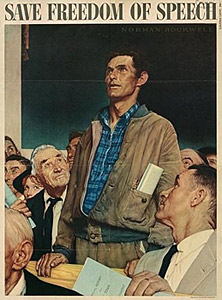 I am going to do my best not to climb too high atop my soapbox and ramble endlessly on this subject, but holy shit does it make me insane when "patriotic" Americans completely ignore the principles that America was founded on.
Did you hear about this guy, Bradford Campeau-Laurion, who was kicked out of Yankee Stadium because he needed to take a leak during the singing of "God Bless America?" I understand that he has a "foriegn" sounding name and telling the cop "he didn't care about God Bless America" was a bit risky, but fuck off, the whole point of America is that YOU CAN PISS DURING GOD BLESS AMERICA IF YOU FEEL LIKE IT! In fact, go ahead and take a dump and get some nachos if you want, you're in America!
I would suggest if you claim to love America so much you should, at the very least, have a basic understanding of our most basic concept, freedom.
8 comments to "Americans who think they love America but shit all over everything it means to be American!"