Jun 17 2010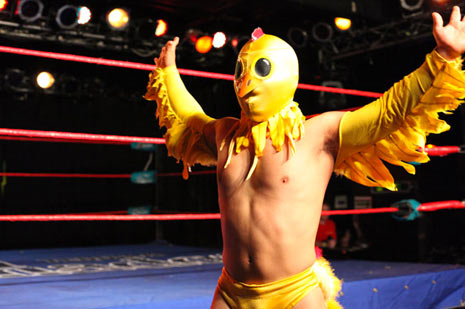 Whoops. I accidentally went to see Mexican midgets wrestle last night. The sad result of this "situation" is no brilliant post today.
I am sort of sorry.
7 comments to "Blame the luchadores!"
#

Amy Louise

on 17 Jun 2010 at 8:49 am

jealous

I had a premonition this would happen.

#

Paul in Saint Paul

on 17 Jun 2010 at 1:29 pm

What was the groupie scene like?

The crowd was all over the place. It was Lucha Vavoom so the bill also included burlesque dancers. Two dancers did an amazing sacrilegious Catholic school girl routine that involved receiving oral sex from Jesus, stripping each other and ultimately ended with one girl tying the other to a cross.

#

Sara

on 17 Jun 2010 at 3:01 pm

As a young girl I remember my father comming home from his buisness trips to Mexico city with wonderful tales of "lucha libre" and how it made WWF (the hottest shit in town remember) look like 3rd class shakespear in the park

but I still loved Rowdy Rodney Piper and Jake the Snake anyway. I lost my Jake action figure but still have the snake!

Rowdy Roddy was a genius.

I can see how a night of exuberant midget fetish could hinder ones hate gland.