Jul 23 2010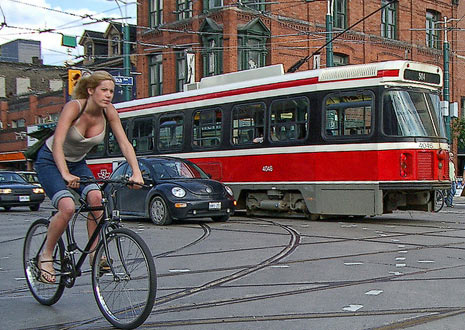 I'm not going to lie, I've had a few beers. I've had a few beers with the person who edits this piece of shit website so please excuse any typos. It's a lose-lose situation.
I spend a lot of time talking about things I DON'T like so maybe it's time to salute something I love. I have also spent many an hour ranting about my hatred for the hipster bike craze but I think it's time to talk about the ONE good thing about bicycles… BIKE CLEAVAGE!
Cleavage is one of God's greatest creations. It says "Hey look, I'm the side of boobs!" Cleavage promises a better tomorrow. I'm not sure if most of the bike-riding girls out there realize just how much cleavage they are exposing during their bike rides and I'm hoping they never find out. Guys, bros, dudes, let's keep this little secret on the down low. Don't blow a good thing!
I love you boobs and I love the glorious, soft canyon of cleavage you create while riding around on a bike.
Good night.
20 comments to "Bike cleavage!"
#

Jeff

on 23 Jul 2010 at 4:09 am

Hold on – someone actually *edits* this?

#

sara

on 23 Jul 2010 at 7:03 am

oh! Here I am holding my blouse against my chest while getting files in the lower drawer but never considering it while hunching over to go uphill……..huh. On the plus side no one is looking at my red huffing face I guess. My damn house is on the top of a hill right next to ANOTHER HILL so anywhere I go is uphill both ways.

I'm glad friday found you with booze and boobs, good way to start a weekend

Sara, just let them go.

#

Paul from Saint Paul

on 23 Jul 2010 at 9:23 am

#1: I have never seen your regular editor drink a beer, ever. Cocktails only. Maybe the occasional Everclear. Do you have a new editor to knock 'em back with?

#2: Some bike cleavage is on purpose. I used to check my old roommate's outfit before she left the house on any occasion, mostly to ensure the rack was on full display. Hunched over biking in the right top can turn almost anyone into almost Jayne Mansfield.

Paul – 1) You are correct, she was drinking old fashioneds. She has not been fired, do not worry. She is the wind beneath my wings.

2) That's the beauty of bike cleavage, it can turn Bs into Ds!

#

Jay

on 23 Jul 2010 at 9:57 am

Editor? Wow, I had no idea YJMML is a team effort. Not many bikers in my area, Listies (is that the plural of Listy), but still plenty of side of boob views to be had. Not all cleavage is good cleavage though.

#

Xina

on 23 Jul 2010 at 9:59 am

Now I feel so unsexy. I wear a t-shirt while biking. Keeps the ladies under wraps. However I do bike bottomless. Trying to start a trend.

#

rachel

on 23 Jul 2010 at 12:28 pm

1. "Peter Griffin Side Boob Hour"
2. bummer about riding a beach cruiser. no "hunching over" involved.
3. a WOMAN is your editor? She is my new Queen.
4. Jay–i think it breaks down like this: HE is LISTY, WE are LISTIES and she *editor* is LISTOR. you're welcome.

#

Jay

on 23 Jul 2010 at 3:24 pm

I dunno, Rachel, You Just Made OUR List has a nice ring to it. And aren't we List-ites?

#

Fucker

on 23 Jul 2010 at 3:28 pm

Loving the photo of Toronto! Not so much the self-conscious feeling i will have when riding a bike. I always figured my tits were on display somewhat, but had no idea I was showing them off so much until now! Thanks for letting me know!

That photo contains 3 things I hate…public transit, VW beetles, and cyclists.

Fucker – Noooooooo! Set them free, they want to live!

#

SuperSlut

on 23 Jul 2010 at 9:38 pm

What about riding a bike in a short skirt with a bikini bottom underneath? Fire away, Listerines!

#

SuperSlut

on 23 Jul 2010 at 9:45 pm

"Cleavage promises a better tomorrow"… great closer for the nightly news. A real picker upper.

#

Shelby Gusho, milwaukee

on 23 Jul 2010 at 11:32 pm

I have been readig your blog for a while now, and now im a the point where normal day life is not entertaining, you are like a drug. ever think about standup? i would so make the drive there to see that!

#

bob

on 25 Jul 2010 at 6:13 am

just want to let you know your strangecargo ad is a dead link.

bob – Thanks, I will look into it. I need to just get rid of the ads altogether.

#

Em

on 30 Jul 2010 at 11:26 am

Are you Canadian? Or where did you find this photo…

Em – No, I'm not but I recognize this photo as Toronto. I honestly don't remember where I got the photo. Why, is that your cleavage?

Shelby – I would SUCK at stand up! You would want your money back, I promise you.