Aug 03 2010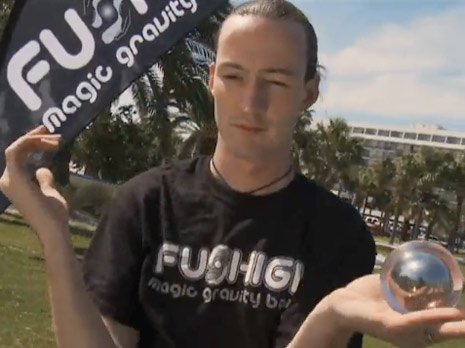 If you have a ponytail and a strong opinion about graphic novels, I'm guessing you are currently home alone fondling your Fushigi Balls. There is also a 37% chance a cassette tape of the Dr. Demento show is currently playing in the background and your penis has not known the pleasure of a vagina.
If you are like me, you are incredibly good-looking and wondering, "What is 'contact juggling' and this so-called 'Fushigi Ball?'" The answer is simple… who cares, let's go listen to Shout at the Devil and drink beer!
Fine. Contact juggling is juggling but without all the juggling. You happy?
But what is a Fushigi Ball? Is it magic, does it defy gravity? The answer is yes, if you are easily confused by mirrors! For the rest of us, Fushigi Ball is simply a fucking clear ball with a fucking chrome ball inside. When combined with contact juggling, Fushigi Ball can create the illusion of a ball that… um… a ball that appears to… well… fuck, I don't know, it looks like a ball!
"Hey mom. Fushigi, I like don't know what it is but it's the coolest thing ever and I can do it. Also I'm pregnant again."

29 comments to "Contact juggling and Fushigi balls!"