Aug 16 2010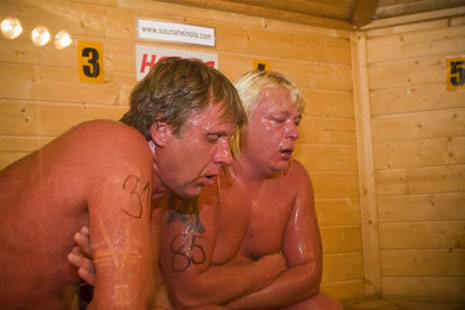 Remember when we were kids and we would stroll down to the local penny candy shop to buy as many World Sauna Championship cards as our messy handful of nickels and dimes would allow? We would run home, with old Mrs. Walker's crazy dog nipping at our heels the entire way, to see which of our favorite sauna athletes we got.
After gathering together in one of our various secret backyard clubhouses, the ritual would begin. First, the wrappers were carefully opened and that horrible pink gum stick was devoured as if it was $1,000 caviar. Next, we began to sort though the cards and the faces of our heroes would reveal themselves. It was glorious! Soon our secret fort would fill with the sound of excited young voices saying, "I got a Bjarne Hermansson!" or "No way, a rookie Annikki Peltonen card!" and "Timo, I got a Timo Kaukonen!" Of course some very serious wheeling and dealing took place for the next hour or so. Timmy would trade a sack of marbles for Skippy's Ilkka Pöyhiä and Bobby would be forced to give up his pet toad AND a slingshot for his chance to own an extremely rare Katri Kämäräinen.
That night, next to me in the blackness lay my oiled blue steel beauty. The greatest Christmas gift I had ever received, or would ever receive. Gradually, I drifted off to sleep, pranging ducks on the wing and getting off spectacular hip shots.
Anyway… Oh yeah, and it kills you.
15 comments to "The World Sauna Championships!"
#

Amy Louise

on 16 Aug 2010 at 4:47 am

oh gross… vomit.

#

Jim Jones

on 16 Aug 2010 at 5:25 am

Looks almost as gay as icing!

#

Fartface

on 16 Aug 2010 at 6:28 am

Skin of a steamed hot dog.

Never underestimate the creative and stupid ways people will try to hurt themselves for fun. On purpose. I never could understand the running of the bulls either. Wouldn't look forward to being gored.

Listy, from your description of your idyllic childhood, I'd almost think you were as old as me. Or watched "Stand By Me" too many times.

#

Paul from Saint Paul

on 16 Aug 2010 at 10:22 am

How about the obese men whose workout consists entirely of going from the sauna to the jacuzzi to the sauna and back again, for HOURS. This is a very popular workout at my Y.

#

caleb

on 16 Aug 2010 at 10:28 am

@Paul – they may be obese, but their pores sure are clean!

#

rachel

on 16 Aug 2010 at 10:31 am

if you can find a way to lure Guy Fieri…we may be rid of him FOREVER.

ps: NADAFINGA!

Kathy – I'm timeless.

Rachel – Thank you for getting my joke 🙂

#

Jonathan

on 16 Aug 2010 at 11:52 am

Too. Many. Omlauts.

Jonathan – Don't be süch a püssy.

#

sara

on 16 Aug 2010 at 12:20 pm

ewww Paul your hot tub is like a fat person sweat stew. Just throw in some carrots

#

Paul from Saint Paul

on 16 Aug 2010 at 2:14 pm

Sara –

Please note I am a patron of neither the hot tub nor the sauna. I swim for extended periods of time and watch from the poolside as the chunky parts of the sweat stew transfer themselves from the steamer to the pot, and back again, and again. Reading a newspaper is compulsory for both locations.

#

chris

on 16 Aug 2010 at 3:28 pm

Sons of bitches! Bumpuses!

I just saw the names at first and thought you were doing a post on the NHL draft.

#

Erica

on 17 Aug 2010 at 10:34 pm

This is completely fucking insane!! Why do they do this? Is the prize like a billion dollars? Is the trophy made of 100 lbs. of solid gold? Do you get international acclaim and achieve complete self actualization? WTF!!!!!!

Jonathan – it is UMLAUTS…not Omlauts. Sorry!!!